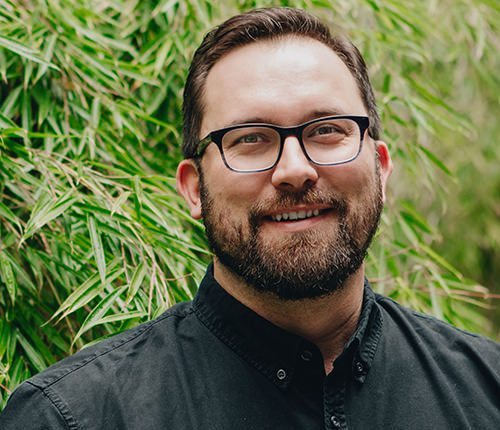 By Cody Lodi
Design Principal Cody Lodi AIA, LEED AP has established himself as a design leader and a creative collaborator at Weber Thompson. He has over 15 years of experience working at all scales with a focus on creating healthy, high-performance architecture. He believes in leveraging emerging digital technologies and delivery methods to better inform the design process. Cody is a mass timber advocate and design lead in the Workplace studio.
Thoughts
News
There's a reason why I've become a passionate advocate for mass timber adoption: What other material can amplify occupants' health and wellness, address climate change realities and benefit the bottom line of my client's projects? My enthusiasm for the progression of this type of architecture recently brought me to the International Mass Timber Conference in Portland, Oregon.
Walking onto the exhibit floor, one thing was clear – the industry is no longer in its infancy. It is growing exponentially. Presentations on tall timber towers and bespoke workplaces attracted crowds to the learning sessions, and a robust network of suppliers, fabricators and designers were present and eager to take mass timber into the mainstream.
Inspirational keynote presentations from Shigeru Ban and Jeanne Gang did not disappoint. Ban's humility and humor highlighted his creative approach to making the most from renewable wood products and timber. While many of his projects were intended to be temporary, they evolved into more permanent installations because of the human connections made to the materials and the spaces they formed. He powerfully noted that, "Architecture is no longer temporary when it is loved."
Jeanne Gang echoed the deep connection we have between wood and architecture. I appreciated her design approach to exploring local materials and vernacular building methods where her projects are created. Whether it be a Shakespearian inspired theater in Illinois, a park and pavilion in Memphis or a center for social justice in Michigan, she and her team have found inspiration in the traditional means and methods that wood provides for bringing meaning to spaces.
An eye-opening fireside chat with regional forestry leaders discussed the important role the mass timber industry has in managing healthy forests. With climate change adding to the hazard of large-scale forest fires, responsible timber harvesting is critical to reducing and managing the fuel source in our forests. When done responsibly, timber procurement, can extract this renewable resource while replanting new trees for future growth and supporting local timber industries. Access roads built for timber harvest can also provide benefit for fighting fires and public access to hiking trails and campsites.
I spent an exciting (and exhausting) day making connections and touring mass timber projects and manufacturing facilities in and around Portland. Highlights included the new Adidas Headquarters expansion and Timberlab's fabrication shop where we were able to see elements of the new PDX International Airport Terminal roof being fabricated. The massive and curvaceous 400,000 sf timber roof will utilize 3.3 million board feet of Douglas fir responsibly sourced from local landowners and Pacific Northwest tribes. It is a sight to behold – comprised of eighty-foot glulam arches, 3 x 6 timber lattice, and mass plywood panels to complete the complex curves around large circular skylights. I can't wait to see it complete in 2025.
Coming back from the conference I am energized and determined to continue bringing more mass timber projects to market. Watching two of our largest mass timber projects start construction this year validates the effort we've put in to progressing the mass timber movement. 35 Stone will be a five-story, mixed-use office seeking Living Building petal certification and Northlake Commons will be the largest lab-ready office project to be constructed with mass timber in Seattle.  These projects will give us the backdrop to continue the discussion of the merits of mass timber design. Keep an eye out for more conversations in the months to come.