35 Stone
35 Stone will enhance the vibrant Wallingford and Fremont neighborhoods and bolster a burgeoning hub of high performance buildings. Through the Seattle Living Building Pilot Program it will achieve dramatic reductions in energy use and capture and reuse rainwater onsite. The mass timber structure will express the beauty and abundance of natural materials.
Client Name
evolution Projects
Location
Seattle, WA
Services
Architecture
Core & Shell Interior Design
Program Overview
5-Story Office Building
34,163 SF Site
177,000 GSF
105,000 SF Office
4,700 SF Retail
148 Parking Stalls
Completion Date
2022 Projected
Certifications
Pursuing Living Building Challenge v3.1 Petal Certification (Materials)
Contacts
Kristen Scott
Principal in Charge
Bernadette Kelly
Interior Design Principal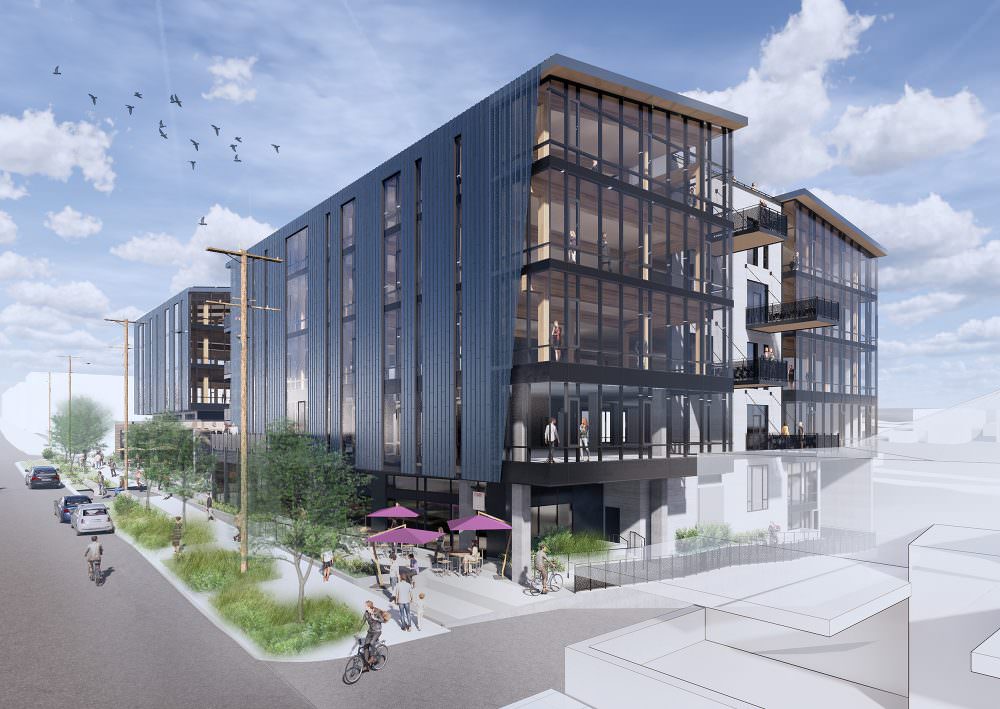 A sustainability showcase
35 Stone is a five-story core and shell office building with roughly 105,000 SF of office, 5,000 SF of retail / restaurant use and three stories below grade parking with 148 parking stalls. When completed, it will be a showcase for the 2018 version of the Seattle Living Building Pilot Program, pursuing the Place, Beauty, and Materials petals of the Living Building Challenge and adhering to ambitious energy and water reductions during occupancy.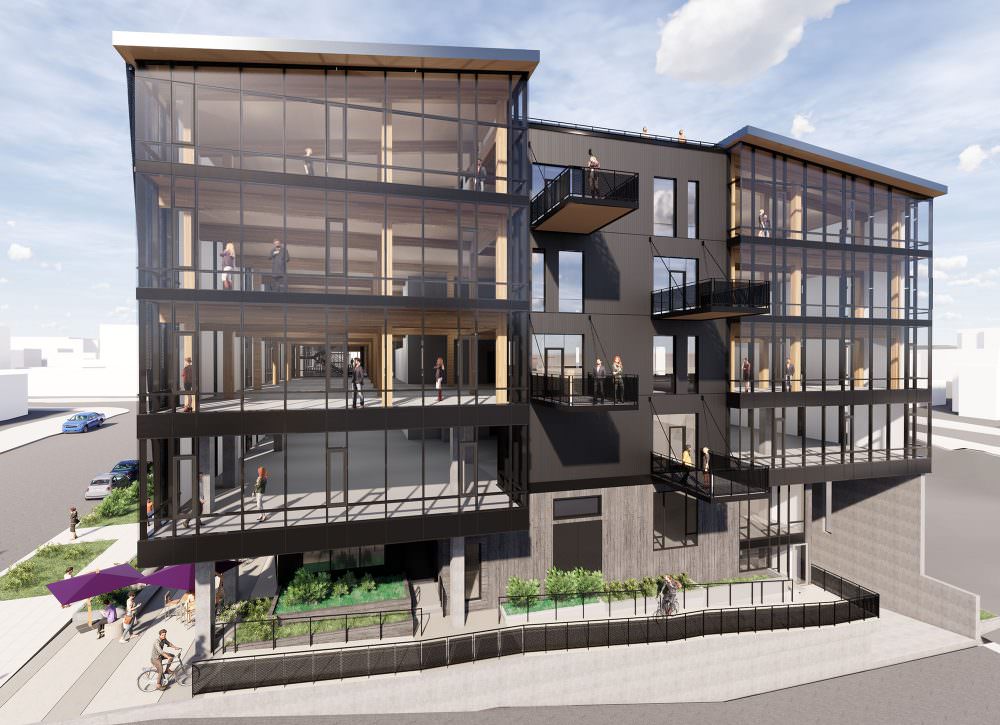 Fresh air & sunshine
The building boasts 11 balconies, a 2,000 sf roof deck, and 135 operable windows; features that promote access to daylight and fresh air. Extensive curtainwall glass provides views of the surrounding neighborhood, as visual and acoustic connections to the natural world have proven to boost occupant health, mood, cognitive function and overall performance, ultimately benefiting office tenant employees. Windows are also self-tinting, reducing glare and lowering the building's cooling loads. Additionally, an exterior feature stair entices occupants to save energy by avoiding the elevator, reap the health benefits of movement, and increase chance encounters with coworkers.
Interactive education
An interactive dashboard in the lobby displays real-time metrics toward water, energy and carbon goals. Educational signage describes landscape elements, and interpretive 'benchmarks' in the entry courtyard express the building's performance. Unique retail spaces with strong connections to the building's outdoor areas provide enticing places to stop and gather.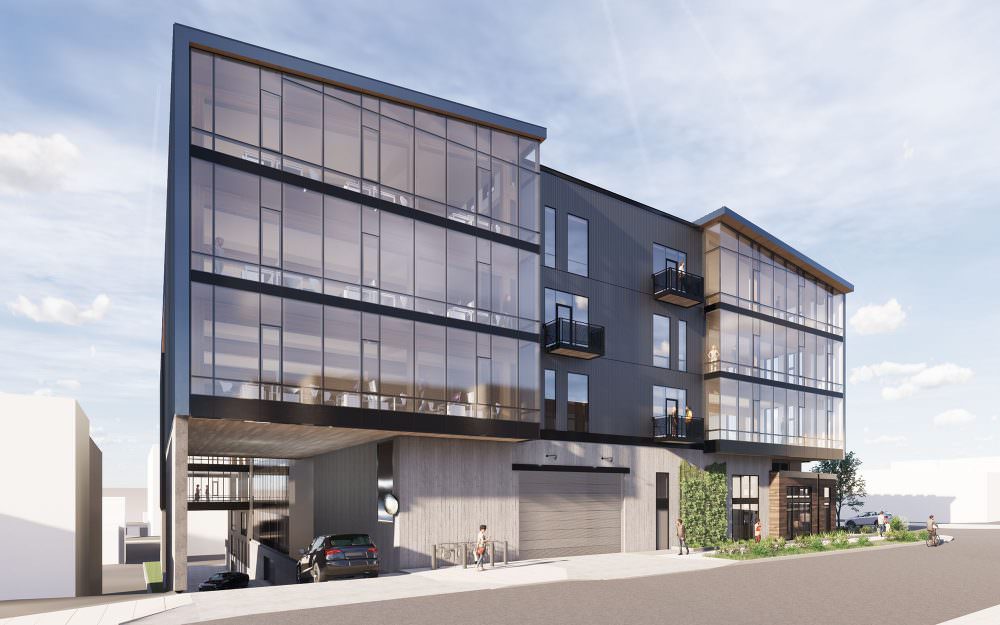 PNW to the core
The building uses a Dowel Laminated Timber (DLT) structural system that expresses ties to the historic local timber industry and reduces the building's carbon footprint compared to steel and concrete construction.
Additionally, the project's location is just a block from the Burke-Gilman trail. 35 Stone's emphasis on bike amenities was a priority from day one, and as a result the building contains a bicycle locker room with 126 bicycle stalls and 100 lockers as well as 18 bicycle stalls outside the building.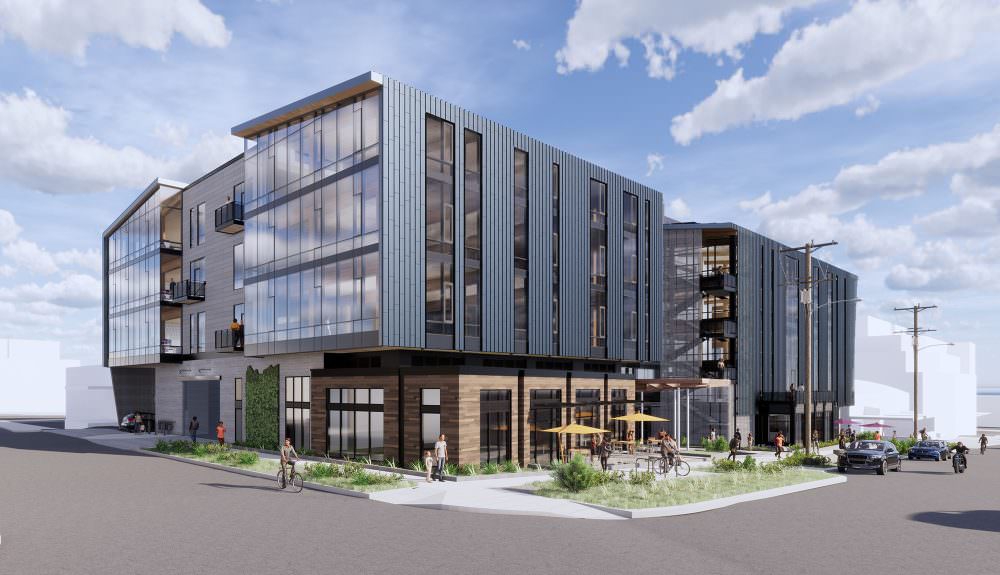 Rainwater harvesting
Rainwater – a precious yet abundant resource in the Pacific NW – is captured in an on-site 250,000 gallon cistern for toilet flushing and irrigation. Stormwater not captured by the roof is routed through interactive bioretention planters to mitigate the burden on municipal infrastructure.
A home for bees
The project features a lively streetscape with active retail and a Pacific Northwest modern aesthetic thanks to the building's timber frame. The design team was inspired by the patina of industrial structures in the area and wanted to create a modern expression of these forms. At the entrance to the building, a honeycomb-like timber canopy welcomes employees and visitors. It foreshadows a feature they'll discover on site: a 'periscope' that provides a peek into the honeybee apiary on the roof of the building.
35 Stone sets a precedent for what a healthy, sustainable PNW office building can be.
Sustainability
Building upon the success of nearby DATA 1 and Watershed commercial office buildings, 35 Stone is participating in the Seattle Living Building Pilot Program (LBPP) for height and area incentives. The mass timber structure is pursuing the program's Materials Petal while incorporating a robust rainwater catchment program, using an on-site 178-panel 100kW photovoltaic (PV) array and energy efficiency measures to meet the strict LBPP energy requirements in occupancy.