DATA 1
DATA 1 showcases how an office building can support a neighborhood with a commitment to improving local ecology while supporting local retailers and attracting high- tech business tenants.
Program Overview
5-Story Office Building
31,260 SF Site
194,000 GSF
114,000 SF Office
12,000 SF Retail
152 Parking Stalls
250 Bicycle Stalls
Completion Date
Q3 2017
Certifications
LEED Gold CS v3
Salmon-Safe Certified
Services
The design of DATA 1 was a collaboration between Weber Thompson's architectural and landscape architecture teams. The project's innovative interior and exterior elements work together to create an award-winning LEED Gold and Salmon-Safe certified building that proves  to be a good neighbor. Gensler designed the tenant improvement for Tableau.
PHOTOGRAPHY: MEghan Montgomery/Built Work Photography, Weber Thompson
DATA 1 Architecture
DATA 1 has established a new Pacific Northwest typology: A neighborhood-scale commercial office building that gives more than it takes.
From drab to delightful
Previously, the site was a void in the retail center of Seattle's Fremont neighborhood and a dark, damp eyesore. Although it contained a local history museum (with assorted artifacts including a piece of the Berlin wall), an award-winning coffee shop, and Turkish restaurant, the site was dominated by an auto parts store and parking lot, incongruous with the quirky, counter-cultural vibe of the community. Thousands of annual tourists visiting the infamous 'Fremont Troll' wondered if they had taken a wrong turn.
Our client was determined to improve the site, embarking on the creation of a building that would enhance the neighborhood. By the time the project reached completion in 2017, they had created an entirely new type of commercial development, and attracted a major high-tech tenant, Tableau.
Prioritizing tenant health
Architecturally, the objective was to create a healthy building. On the upper office floors, tenant comfort and productivity drove a robust daylighting and ventilation strategy, resulting in a courtyard building with operable windows. The facades appropriately balance punched openings and vision glass with horizontal and vertical shade fins, reducing heat gain and glare while maintaining ample daylight. A feature stair provides a healthy alternative to the elevator, increases chance encounters with coworkers, and provides access to an expansive roof deck amenity.
Integrated structural design
Inside, the exposed castellated steel beams increase the perceived ceiling height, creating an open, airy space with changing light and shadows, and allow sprinklers and other building systems to run through them. The innovative SidePlate moment frames improved the steel erection sequence, and freed up the floor plan from diagonal braces and concrete shear walls.
DATA 1 Landscape Architecture
With stormwater-scrubbing bioretention cells and access to lush exterior roof decks on every floor, DATA 1's landscape is focused on connecting building users with the surrounding neighborhood.
200,000 gallons
Previously, downspouts from the adjacent Aurora Bridge sent runoff into Lake Union, polluting a primary spawning route for the salmon headed from Puget Sound to the rivers east of Lake Washington. The project team was inspired to work with local and state agencies to clean the Aurora Bridge Runoff by voluntarily diverting the stormwater to a series of innovative stepped bioretention cells incorporated into the streetscape design. These large-capacity bioswales now remove toxic contaminants from 200,000 gallons of polluted stormwater each year. Additional phases have been constructed at Watershed and across N 34th Street under the Aurora Bridge.
Neighborhood retail
Popular local retailers wrap three sides of the ground floor. Spacious plazas for seating and a mid-block pedestrian pass-through come alive with restaurant dining on warm evenings. The east edge of the site, a lushly landscaped meandering stair provides a new connection to the iconic Fremont Troll and a place to stop and sip a cappuccino. 
Signage educates the public about the stormwater system, and plantings that attract pollinators line the path and create habitat for birds, butterflies, bees and other beneficial insects. The building's 200 bicycle parking stalls are conveniently accessed off the hill climb, a few short steps from the bike lanes of the Burke Gilman Trail, a 27-mile multi-use recreational trail linking Seattle to Bothell.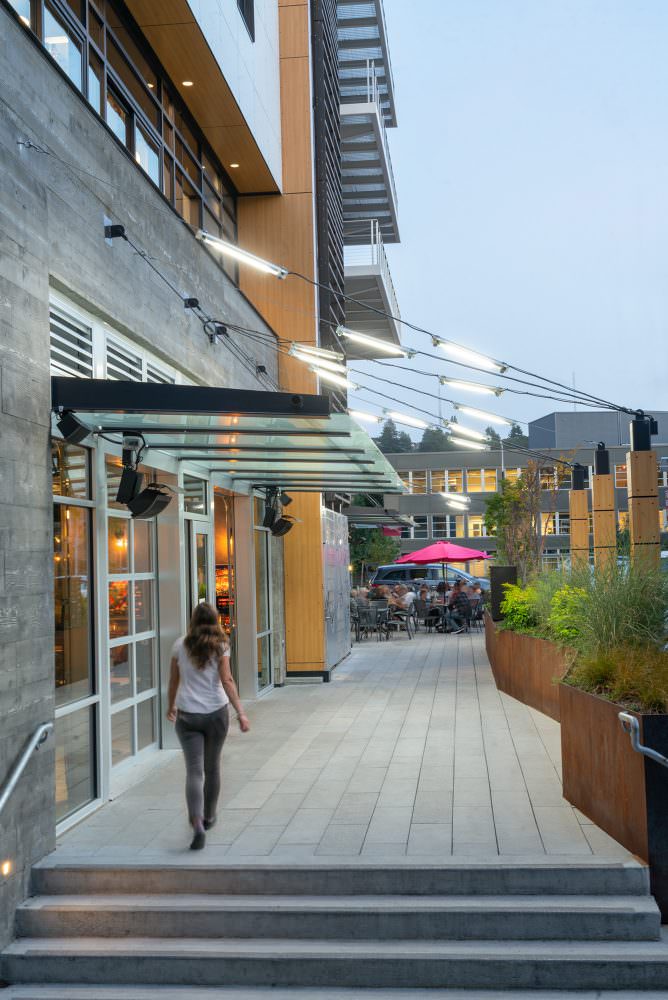 Landscaped connections
Along N 34th Street, a wide sidewalk with lushly landscaped buffer, additional bioretention planters, and gracious building entry create a friendly pedestrian realm. A wide pedestrian pass-through, or mews, at the west edge of the building connects the sidewalk to AB Ernst Park and the historic Fremont branch of the Seattle Public Library.
Sustainability
The story of DATA 1 is one of persistence and desire to go above and beyond conventional commercial development to do the right thing. From the Aurora Bridge stormwater cleanup effort to the courtyard massing to the feature stairs, every design decision was made in service of creating a healthier building. DATA 1 is LEED Gold for Core & Shell certified, as well as Salmon-Safe certified for its commitment to cleaning the Lake Union waterway, a critical spawning route for the region's native salmon populations.
"Your team [should be] proud of this project. I've worked in the office complex across the street for over seven years and, before your transformation, it was a drab, run down, and unpleasant place to be. The change is beautiful!"
Michelle, DATA 1 Neighbor
"DATA 1 is testament that new commercial development can be good for people and the planet while also making strong financial sense. "
Joanna Callahan, Developer