The Terry Thomas
The Terry Thomas is a pioneering, passively-cooled commercial building located in Seattle's South Lake Union neighborhood. Awarded LEED Gold Core and Shell and LEED Platinum Commercial Interiors for the majority of the initial tenant improvements in 2009, the project is nationally recognized for its sustainable design.
Client Name
Thomas and Terry LLC
Location
Seattle, WA
Completion Date
Q2 2008
Services
Architecture
Interior Design
Program Overview
4-Level Office Building
2 Levels Below-Ground Parking
13,800 SF Site
40,000 GSF
65 Parking Stalls
CERTIFICATIONS
LEED CS Gold Awarded 2009
LEED CI Platinum Awarded 2009 (for Weber Thompson offices)
Awards
2009 AIA Northwest & Pacific Region Design Honor Award
> More awards listed here
Contacts
Kristen Scott
Principal in Charge
Myer Harrell
Director of Sustainability
Services
Weber Thompson was the core and shell architect and provided interior design services for the majority of the tenant improvements, including the Weber Thompson offices.
PHOTOGRAPHY: LARA SWIMMER, WEBER THOMPSON, KRISTA WELCH CREATIVE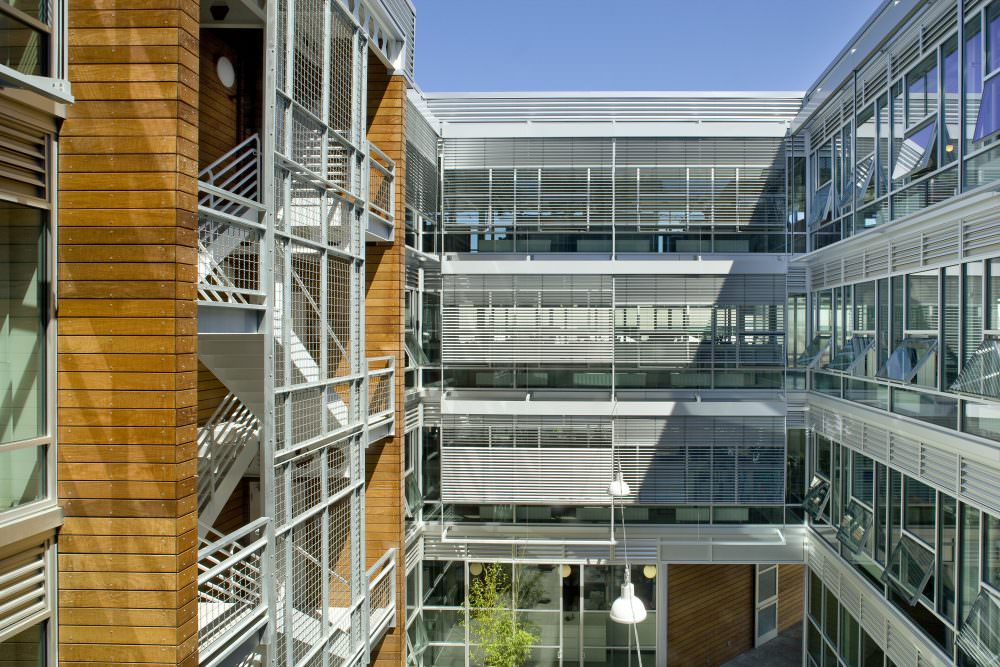 A learning laboratory
Wrapped in windows, The Terry Thomas is a building designed along a modern aesthetic using a combination of time-tested passive strategies and complementary new technologies. It was Seattle's first commercial office building developed in decades without central air conditioning and is a working demonstration of the possibilities of sustainable design. The building's central courtyard and exposed castellated beam structure promote passive cooling and ventilation as well as beautifully-daylit interiors.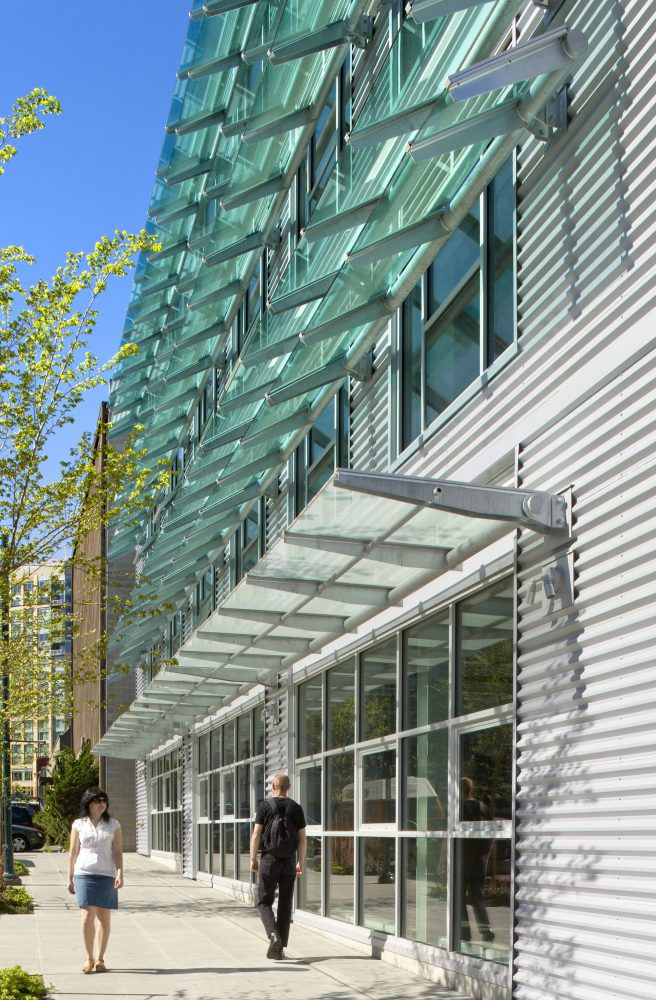 Passive cooling
The design choices made for The Terry Thomas reflect changing attitudes about the environment, climate change, and employee well-being. The building reduces energy use and its carbon footprint with no air conditioning, minimal artificial lighting, a feature stair that encourages use, and a single elevator. The passive cooling system features manually operable windows and automated louvers around the exterior and a central courtyard. In the summer, warm air is drawn into the central courtyard, which acts as a chimney sending it skyward.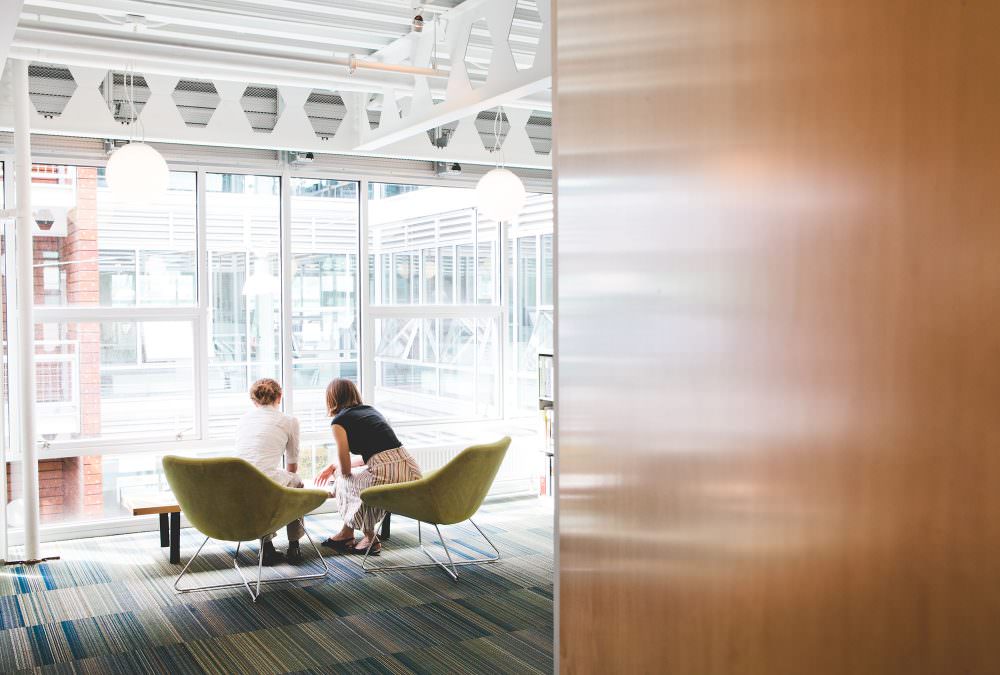 Healthy, happy employees
Glass sunshades, exterior automated blinds, and a reflective roof protects occupants from solar heat gain. Designing to optimize the natural ventilation went hand in hand with enabling natural light to penetrate the building, dramatically reducing the need for electrical lighting. Both strongly contribute to The Terry Thomas's original vision of occupants' well-being, satisfaction, and productivity.
Big savings; Modest budget
The Terry Thomas consumes 50% less energy than a typical class A office building, and saves 45-50% water usage through efficient fixtures. It saves energy through hydronic heating, efficient equipment, lighting controls and daylighting enhanced by light-reflecting surfaces. CO2 and temperature sensors operate automatic louvers for natural ventilation and cooling. The honest expression of the castellated steel structure and minimal finish materials showcase the building's active and passive systems, while reducing the floor to floor height and preserving the project budget.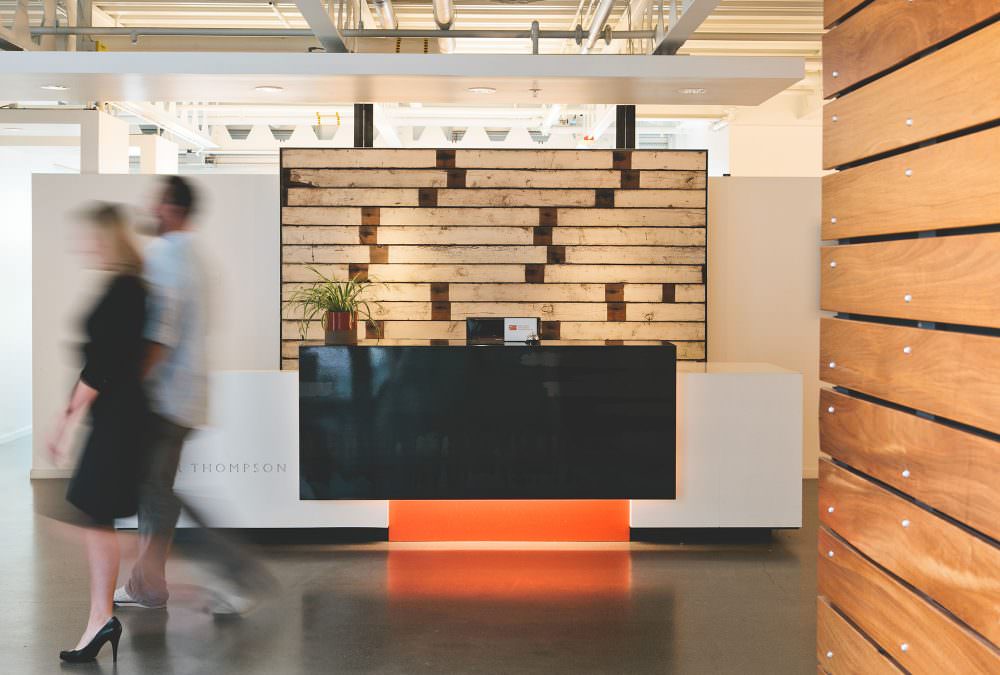 An ode to a music legend
The former building on the site – a light industrial warehouse from the 1920s – was used as a practice space for one of Seattle's most well-known grunge bands, Pearl Jam. Most of the previous two-story building was salvaged for reusable building materials and components, including the brick and heavy timber. 93% of materials during demolition were recycled and 94% of the construction waste was recycled. A section of flooring from Pearl Jam's studio was cut and rearranged by RAFN, the general contractor, and installed in Weber Thompson's reception area as an art piece titled No Code. In 2020 it found a new home at the firm's new office at Watershed.
2010 First Place, New Commercial Buildings Category – ASHRAE Technology Award
2009 First Place, ASHRAE Society Level Technology Award, Commercial Buildings
2009 AIA Northwest & Pacific Region Design Honor Award
2009 AIA Seattle What Makes it Green? Award Recipient
2009 AIA National COTE Top Ten Green Projects Award
2009 LEED Gold Certified for Core and Shell
2009 Weber Thompson Offices within The Terry Thomas – LEED Platinum Certified for Commercial Interiors
2008 Sustainable Development of the Year, Washington State NAIOP
2008 AIA Seattle Honor Award Commendation
2008 Third Place, Evergreen Awards, Ecommercial Category, Eco-Structure Magazine
"The Terry Thomas provides a window into the soul of a firm that practices what it preaches and whose approach to sustainability is as much rooted in common sense as it is in the eco-enthusiasm of its employees."
Jim Schneider, eco-structure, 6.2008
"The Terry Thomas is like the Toyota Prius of Office Buildings. "
Seattle Post-Intelligencer
The Terry Thomas in the News