Cedar Speedster
Cedar Speedster pays homage to the neighborhood's industrial, lumber and saw mill history with heavy timber construction, exposed wood car decking ceilings and exterior cedar cladding.
Client Name
Revelution, LLC / Hess Callahan Grey Group
Location
Seattle, WA
Services
Program Overview
3-Story Office Building
11,065 SF Site
40,000 GSF
22,500 SF Office
5,000 SF Retail
10,000 SF Parking
Completion Date
Q1 2020
Construction type
Type VB Mass Timber
Services
At Cedar Speedster, Weber Thompson's architecture and landscape architecture teams collaborated to deliver a Class A commercial office building with a Fremont twist. Weber Thompson's Interior Design team also designed the tenant improvement for Revel.
PHOTOGRAPHY: Meghan Montgomery, Mark Woods, Weber Thompson
Cedar Speedster Architecture
To honor the past but look to the future, the Cedar Speedster design team focused on celebrating the materiality of timber and steel. Mass timber and cedar cladding create a visceral connection to the Pacific Northwest's sustainable roots and the region's robust timber industry, and wood offers biophilic benefits to boot.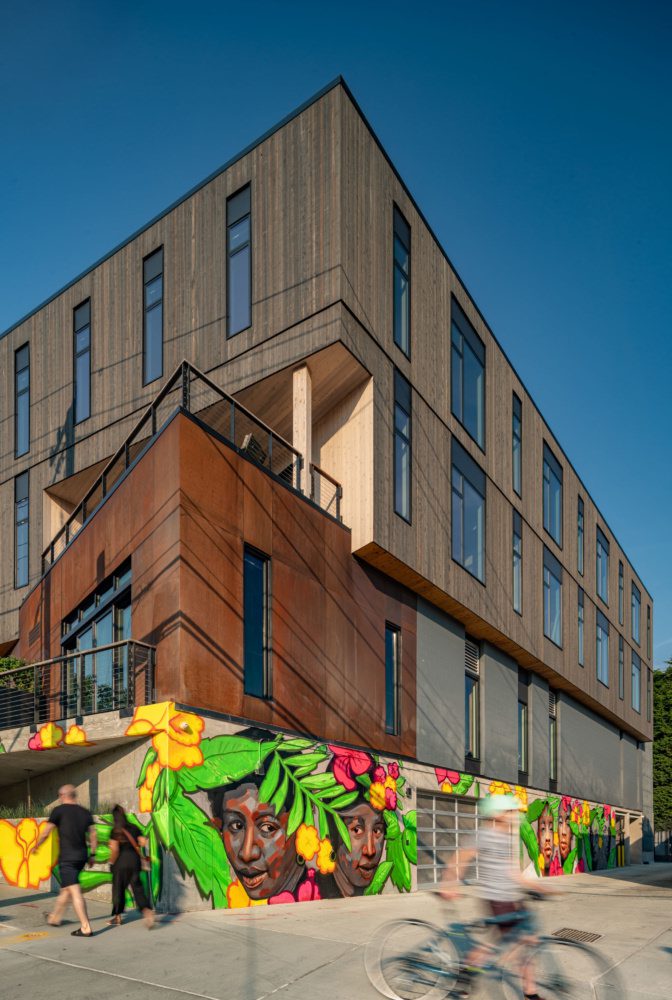 A unique site
Unique site geometries and daylighting simulations aided in sculpting the building mass, highlighting necessary interventions. Glare and heat gain issues were mitigated by maximizing the glazing on the north and fine-tuning the glazing on the south and west facades.
Carving the exterior terraces out of the west-facing façade created additional shading while providing valuable outdoor space and opportunities for bioretention planters. Operable windows on all glazed facades increase natural ventilation while providing a sensory connection to the vibrant surroundings of Fremont.
Wood is good
Inside the building, the design leans on the expressive structure and textures of engineered Douglas fir columns, beams and tongue and groove decking to tell its story. 
Tenants reap the benefits of working in this unique space. Fresh air, daylight, and access to outdoor spaces boost cognitive function. The wood structure itself has biophilic benefits – enhancing the creativity, health and wellness of occupants through visual cues from color and grain as well as non-visual cues from touch, smell and even from the sound of timber.
Evo Tenant Improvement Architect:  RobERT Hutchison Architecture
A creative hub
The building contains several tenants – housing the headquarters of outdoor retailer evo, and a local development company as well as three local food retailers/restaurateurs. A common area off the lobby provides a place for social interaction and tenant events, while murals throughout the building provide splashes of whimsy and a connection to other Fremont street art.
Cedar Speedster Landscape Architecture
Cedar Speedster maxes out every planting opportunity to clean stormwater while creating a lively pedestrian-oriented streetfront in Seattle's Fremont neighborhood.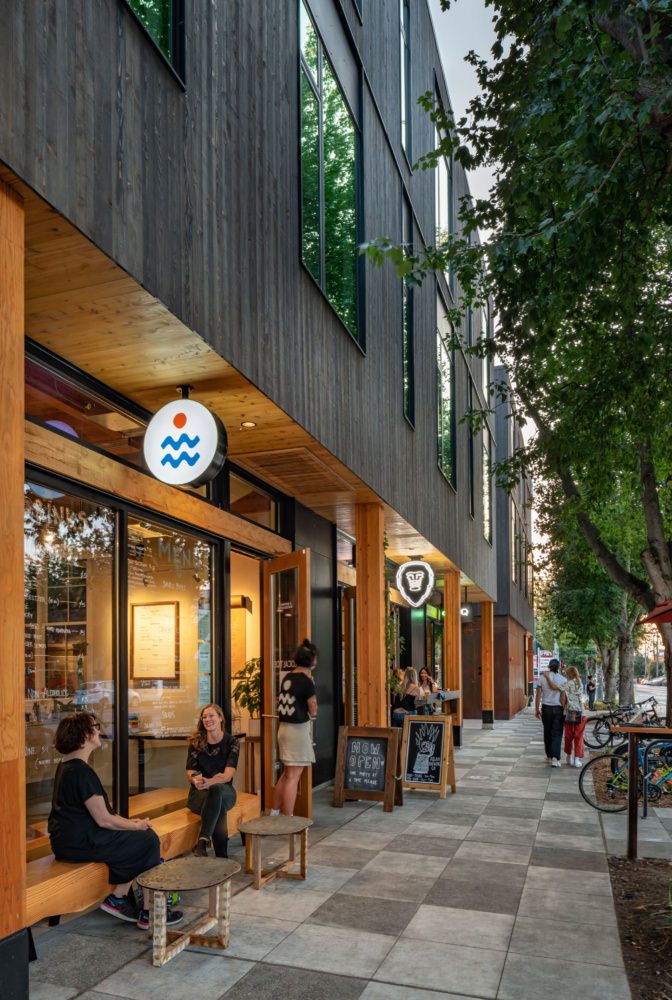 A retail-friendly frontage
There are many benefits and amenities packed into this boutique-sized project on all frontages, including the alley. The ground floor provides vibrant retail space, anchored by award winning restaurant Revel, as well as Aslan Brewery Taphouse and Local Tide eatery. All tenants support the distinct retail offerings Fremont is known for, and the streetscape further enhances this liveliness. Street trees were carefully protected during construction, providing a mature canopy over the sidewalk during warmer months. Stormwater planters are uniquely tucked below outdoor terraces and within the building's egress stair.
Green stormwater management
The project employs four different configurations of constructed bioretention planters on this compact site to capture and manage stormwater. Along the Phinney Avenue right of way, three planters have been integrated with the architecture; a prefabricated metal planter to separate the adjacent tenant's outdoor spaces, a planter cast into the building's concrete base that is open to the sky, as well as a planter tucked below the cantilevered terrace.
"This project was a collaboration between several locally-focused companies; we combined our expertise to deliver a Class A office building with a Fremont twist. It's immediately unique. "
Client Statement
"Cedar Speedster celebrates the role wood can play in contemporary commercial office buildings. "
Cody Lodi, Project Designer
"From the beginning, we wanted to build something special that reflected Revel's aesthetic, and at the same time created a vibrant new spot on Fremont's map."
Client Statement
Sustainability
As a mass timber building, Cedar Speedster has 22% lower embodied carbon over a traditional concrete structure. 
Early phase energy modeling helped sculpt the building massing to lower energy use. This informed glare and heat gain issues, which were mitigated by reducing the glazing on the south and west facades, while maximizing the glazing on the north façade.The addition of large operable windows on all glazed facades increased natural ventilation while providing a physical connection to the vibrant surroundings of Fremont. The addition of a large terrace on each of the two upper levels further reduced predicted building energy usage, while providing a crucial connection to the exterior environment.
Cedar Speedster in the News