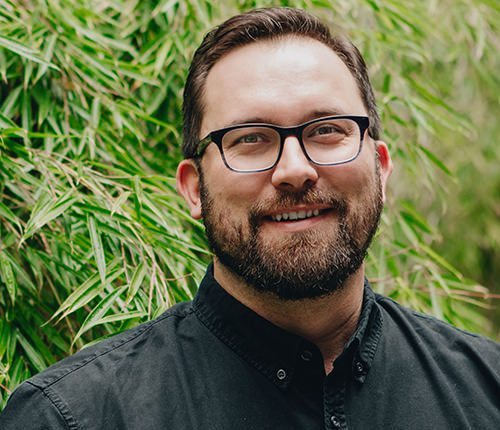 By Cody Lodi
Design Principal Cody Lodi AIA, LEED AP has established himself as a design leader and a creative collaborator at Weber Thompson. He has over 15 years of experience working at all scales with a focus on creating healthy, high-performance architecture. He believes in leveraging emerging digital technologies and delivery methods to better inform the design process. Cody is a mass timber advocate and design lead in the Workplace studio.
Thoughts
News
Weber Thompson has established a significant portfolio of deep green, high-performance commercial office projects over the last decade. Our success lies in the relationships we have built with clients, consultants and cohorts who share the vision and rigor of creating a healthy built environment.
It is important to share the stories and highlight people that make these projects come to life, so today I am sharing a conversation with one of our key clients and magic-maker, Joanna Callahan of Hess Callahan Grey Group. Hess Callahan Grey Group is a partnership between the Seattle-based company Hess Callahan, and Mark Grey, a principal at Stephen C. Grey & Associates, LLC (SCGA). The team has a depth of experience in commercial development spanning 65 years and dozens of diverse projects including office, retail, multifamily, and marina uses. Weber Thompson has collaborated with HCGG on the award-winning projects DATA 1, Watershed, and Cedar Speedster.
Cody Lodi: What influences brought you to the development profession and what do you think it takes to develop meaningful projects in the Seattle area?
Joanna Callahan: Development is such a unique blend of so many disciplines: finance, law, construction, design, communications, etc… I followed my dad into the business, which makes me doubly fortunate in that I both saw development as a profession growing up and could start early with a built-in mentor. I initially imagined myself in a more legal role, but I love how development allows me to interact with so many great team members across disciplines. Then, at the end of the day, you have this tangible project that people get to enjoy and interact with.
I don't think there's one right way to develop meaningful projects, and I can't pretend we have it figured out. We do put a lot of thought into our projects, and I like to come back to the idea of 'being a good neighbor.' We really want our projects to be in sync with the neighborhood both aesthetically and in approach. We want our buildings to contribute to the neighborhood and hopefully embody what makes that specific area special in the first place.
JC: How do you define a meaningful project and how does that guide your design?
CL: To be honest, all of our projects are meaningful in the sense that they represent the culmination of years of work and substantial resources to make them real. The scale of the projects that we design rewrites portions of the built environment and affects the people and communities in which they are built.
To that extent, the most meaningful projects for me are those that have a story to tell and foster a dialogue with the people who interact with them. Being in our new space in Watershed, I've witnessed people walking by, looking up from their cell phones and stopping to read the interpretive signage or inspect the patterned steel entry gate with intrigue. That moment is absolute magic when you see someone engage with architecture that you have helped to create.
CL: What are your company's values/ethos and how do you approach potential projects?
JC: We're small so we have to be nimble and opportunistic; in other words, we're always working to get creative and create value where others might miss it. We're really only able to take on 2-3 projects at a time, so we are careful in what we pursue and committed to making those projects special. We take a lot of pride in what we build and how we do it – both in terms of the team we work with and how we approach the community. The natural result of focusing on unique projects with long term value (for both investors, and the neighborhood) has been a consistent commitment to sustainability, which we're really happy about!
CL: We've done several projects together in the Fremont and Wallingford neighborhoods. What makes these satellite neighborhoods attractive to you as a developer and do you approach them differently than you would in South Lake Union or downtown?
JC: Yes! There's so much we love about Fremont and Wallingford. From a development perspective, it's an exciting place to build because it presents an opportunity to engage with a neighborhood on a scale that is approachable. I'm curious to see how these neighborhood "nodes" function post-COVID-19. I can see smaller neighborhood offices being more accessible and preferable for flexible workers.
CL: One of those projects – Watershed, is your first foray into the Living Building Pilot Program, a zoning incentive program in Seattle that increases development potential for providing a healthy, high performance project with significant energy and water conservation measures. What made this program attractive to you and what were some of the challenges of creating this type of project?
JC: We firmly believe that sustainable buildings are the future. We saw the value of sustainability with the Terry Thomas Building and it was a lesson we carried with us. Watershed was a small site and the City's incentive of 15% more FAR for Living Building (now 25%) really made the numbers work. There were challenges along the way – I know way more about storm water collection, potable water, and non-potable plumbing than I ever expected! – but it really was worth it. It feels like more and more companies are being asked to demonstrate their values and occupying a deep green building is a tangible way to show a commitment to sustainability.
CL: What is your favorite aspect of the project?
JC: I think my favorite feature is the cedar soffit in the entry court. But you actually get to work in the building! I'm curious if you have a favorite feature, and if it's changed since moving in?
CL: Right now, I really enjoy looking out from our space on to the Troll Avenue terraces and watching people sit to eat lunch or point to the signage and water features. Architecturally, I love the weathering steel hanger door at the entry court and can't wait for it to be open with people using it. It will be a lively space when we have retail and office tenants mixing in that grand entry.
CL: What advice would you give another company looking to develop a project like Watershed?
JC: Do it! I'm simplifying, but really, all the challenges are solvable. In the end, you only get to build once and LBPP is a win-win: it's good for the planet and community, it's attractive to tenants, and the 25% increase in FAR makes it pencil for developers. There are more deep green projects in the non-profit and public sector, but it can and should be done in private development. We've shown that it works.
CL: What is challenging about developing projects like Watershed that you wish more people realized?
JC: That's a good question. It is more challenging than a typical building. I would caution any developer who thinks it is solvable by simply paying more. This isn't a 'pay and go' feature. There are so many details and challenges, it really requires a great team and a lot of discipline to coordinate details.
JC: What comes to mind for you? This was your first LBPP project too, any advice or challenges you would want to pass on to a developer or architect considering LPBB?
CL: Without hesitation, do it! These are the projects that you can be proud of at the end of the day knowing that you are making a difference. They require left and right brain thinking, so make sure you nurture both. The educational and beauty aspects of the project are just as important as the technical challenges of meeting the energy and water performance goals.
The key to success is investing in the design process not just focusing on the outcome. As you know, having an engaged ownership group and assembling a cohort of consultants that bring clever and out of the box thinking will set you up for success. Also, don't be afraid to think big and look beyond the property bounds. Sometimes you'll find opportunities to multiply the impact of these projects like Watershed does with the treatment of the runoff from the Aurora bridge.
CL: On a personal note, tell me something about yourself that you wish more people knew about you.
JC: Ha! There's nothing I really wish people knew. If you're looking for a "fun fact," I'm pretty boring now, so I have to go way back. In college, I spent half a summer in Rwanda doing senior thesis research on a grant. I was on my own and went around the country observing the local court system. Looking back, it was crazy, but so enlightening.
JC: I am curious if you have an answer for yourself here?
CL: We all must give a little to get a little in return, right? Let's see, a fun fact about myself – I love to ski and find that it brings me the closest to nirvana. While I am much more of a powder hound now, when I was younger, I was an adrenaline junkie and would compete in slopestyle and freeskiing events. Spinning off a feature or being inverted in the air and sticking the landing was about as good as it gets for me in my teens and twenties.
CL: What accomplishment(s) are you most proud of?
JC: As cliché as it sounds, being a working parent is no joke. We started working on Watershed literally my first week back from maternity leave for my second daughter. My older daughter (Ellie) was 2. I thought being a college athlete made me tough or especially prepared to juggle priorities. So dumb. Balancing new projects and little kids has been tough, and I'm really grateful I've been able to do it.
I also have to give a big shout out to my partners Mike Hess and Mark Grey who have always been incredibly supportive.
CL: When you aren't focused on bringing these projects to life, what do you do to recharge or relax?
JC: Good question, I'm still working on figuring that out! I really enjoy spending time with my family – we try to ski, hike, and explore local parks as much as possible. I also try to get outside every day, usually that means sneaking in a run, even if it's just 20 minutes, to get some head space. Travelling and seeing friends is also energizing for me, so I am looking forward to doing that again soon. Kristen Scott, managing principal at WT, was so great at reminding me how important it is to carve out some travel time for yourself. I try to listen to whatever advice she gives me.
JC: How about you?
CL: I also have learned to listen to Kristen's advice (not just because she's reading this). Traveling to a foreign country with different cultures is such a worthwhile experience, but anytime I can get away from the city and into nature, I can feel the stress melt away. I grew up in Northern Idaho, so I feel most at home at the top of a mountain or in a forest. There is nothing more rewarding than a day of skiing or a long hike with a campfire, friends and a beer at the end.
CL: What other projects are you currently working on and what do they suggest about the future of office development in Seattle?
JC: I am super excited to be working on Latona with the Weber Thompson team again. As you know, we're partnering with the Dunn Lumber family to develop their current lumber yard into a mixed-use office and life science project that will be about 200,000 RSF. Given the Dunn connection, it had to be a mass timber, which is incredibly exciting and will make the project unique right away. It's also been such an interesting exercise to try and anticipate what office users will want post-COVID-19. We've tried to incorporate plenty of functional outdoor space, fresh air, opportunities for privacy, and focus on health and wellness. I think you were the one who came up with the tag line, 'Why work from home, when you can work from the forest,' which I think really sums up what we're trying to accomplish.
JC: There are so many ideas for what the 'future of office' in general will look like though, what trends are you seeing as for future office development? Did any COVID-19 lessons play into the plans for WT's new office?
CL: Definitely. What a time to be designing and moving into a new office space, right? I think we are at the forefront of a trend that focuses on health and wellness in the workplace. This was something we acknowledged before the pandemic but now it is getting a lot of attention as a way to address the mental health and productivity of people reintegrating back into the workplace. Companies' office spaces are competing with employee's home offices now and they need to show that they will be safe, healthy and offer benefits that you can't find in the home.
Moving into Watershed was an opportunity to leverage the benefits of a Living Building to address these needs and frankly some of the anxiety of coming back from a tumultuous year of isolation.
CL: Final question, if you could team up with a celebrity investor on a project, who would it be and why?
JC: Obviously Beyoncé, no explanation needed.
JC: Ok, I'm curious if you have anyone in mind?
CL: I am fully on board with some investor input from Bey, but maybe someone with local ties – like Eddie Vedder or Macklemore? Maybe you can convince Macklemore to open a thrift shop in Watershed? It fits with the salvaged materials theme!