Join us in celebrating the promotions of seven staff members to new leadership positions in the firm. Brittany Porter and John Stout have been promoted to Senior Associate. Laurie Wilson, Tanya Kataria, Erik Schultz, Sam Castro, and Leslie Riibe have been promoted to Associate.
Senior Associates
Brittany Porter AIA, CPHC, LEED GA
Joining WT's Workplace Design Studio in 2018, Brittany brought a wealth of highly sustainable experience, including managing the design and construction of one of Washington State's first multifamily Passive House buildings. She is a frequent speaker on sustainable design principles, a certified Passive House consultant, and a past Board Member for Passive House Northwest. Brittany is the Young Architects Regional Director for the AIA Northwest & Pacific Region, acting as liaison to the Committee on the Environment. Currently, she is working on Northlake Commons, a mass timber, lab-ready building pursuing LEED Gold certification.
John is a core member of Weber Thompson's high rise design studio. He brings a passion for high rise design, advancement and technology to his skyline changing design work on projects such as Nexus, The Ivey and The Ayer. John's design philosophy revolves around a central desire to design every space to be exceptional, welcoming and somewhere he would want to live. John serves on the CTBUH Seattle board and is highly active in mentoring programs at the University of Washington Department of Architecture.
Associates
Laurie Wilson AIA
Architect Laurie Wilson is a Senior Project Manager in Weber Thompson's Affordable Housing Team, working to deliver mixed-use projects such as the Opportunity Center at Othello Square and the SCIDpda North Lot project on the historic Pacific Medical Center campus. Laurie is one of the first African-American women architects licensed in Washington State and is a passionate advocate for creative placemaking that benefit and honor the communities she serves. She was a founder of the "Cities for All Project," and has supported organizations including Africatown Community Land Trust, King Street Station Arts, The Black Farmer's Collective, as well as numerous planning and design boards.
Tanya Kataria LEED AP
A passionate advocate for design that affects real change, Tanya is a designer in WT's affordable housing team, where she brings this passion to bear on her projects. She is a member of the Citizen's Housing Commission in the City of Edmonds, working on public policy that promote diverse, affordable housing options. More recently, she was admitted to AIA National Next To Lead program, a pilot leadership program that removes barriers to AIA Leadership positions for ethnically diverse women.
Sam Castro RA
Sam is Weber Thompson's BIM Manager and a licensed Architect. Focused on fostering clear communication, efficient production, and effective management, Sam supports people, projects, and process development for WT's multi-disciplinary digital design practice. He Leads WT's Revit User Group, and is engaged in local and wide ranging BIM roundtables. Sam also consults on WT's IT/technology initiatives, bringing a strategic and risk management lens to all decision making.
Erik Schultz AIA
A Sr. Project Architect in Weber Thompson's Workplaces Studio, Erik is leading a mass timber, lab ready high rise through documentation. He is an innovative yet pragmatic problem solver and is dedicated to client care. Outside of his projects Erik is a vital member of WT's Revit group, presenting to the office, developing content, and providing overall consulting and BIM office Hours to the office. He is also a staunch advocate for Scrum and has presented to the office this alternative method for project delivery.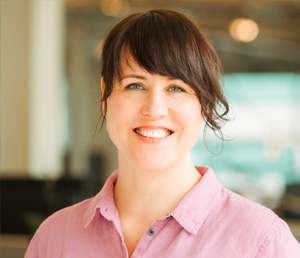 Leslie Riibe
Associate Leslie Riibe is a Senior Graphic Designer at Weber Thompson, a vital member of WT's mighty marketing team. She is the designer and gatekeeper of Weber Thompson's brand assets and consults with project teams on building signage. Leslie has contributed to environmental graphics for a number of WT projects including Ascent, Marlowe, Watershed, and Northlake Commons. She is an active member of her Toastmasters group and frequently contributes her design talents to non-profits, including the Seattle Architecture Foundation, Passive House Northwest and the AIA Diversity Roundtable. A lifelong learner, in 2017, Leslie added a certificate in User-Centered Design from the University of Washington to her educational experience.