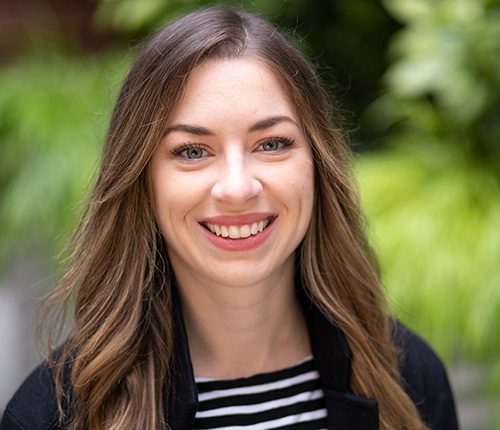 By Brittany Porter
Brittany is a senior associate and is experienced in sustainable multifamily and workplace projects, has a background in passive house design and is passionate about low-carbon architecture that promotes health and wellness for all. She is the AIA Young Architect Regional Director of the Northwest & Pacific Region and acts as a liaison to the national AIA Committee on the Environment (COTE).
Thoughts
News
Seattle is a city of water. The Puget Sound and Lake Washington bound the city's eastern and western edges, and a canal connects both bodies of water into the city's geographic center, the heart, Lake Union. The lake provides an expansive visual connection between the varied and distinct neighborhoods surrounding it. The lake itself is home to several houseboat and floating home communities, public small watercraft recreation, and even a seaplane airport.
Seattle is also a city of wood. The forests are a short drive away and facilitate a culture of outdoor recreation that permeates into the urban lifestyle. Like many other non-indigenous settlements in the Pacific Northwest, timber milling and logging were the original backbones of industry. In fact, a lumber company has existed on the north end of Lake Union since 1931: the Dunn Lumber Company. Dunn Lumber is a successful, family-owned, local business that believes in supplying craftspeople with the highest quality wood products.
The Dunn family teamed up with local real estate development group Hess Callahan Grey Group and architectural firm Weber Thompson to transform their original lumber yard into its fullest potential. Currently under construction and coming in the fall of 2023, Northlake Commons will be a four-story, mass timber, mixed-use workplace building above a two-story concrete podium that will house the new Dunn Lumber warehouse. This innovative project will bring new energy to a previously sparse industrial area with an improved park space that engages with Seattle's appreciable Burke-Gilman bike trail and an expansive public plaza looking out over Lake Union.
In respecting the project site's proximity to the Lake Union shoreline, stormwater management and restoration became vital design goals. Currently, stormwater sheds down a significant hill from the neighborhood to the north and into the lake untreated. However, after the Northlake Commons project is completed, new stormwater infrastructure will divert the water into a swale capable of filtering up to 5 million gallons of stormwater before it continues its path to the lake. A generous building setback at the shoreline adjacent property line created this significant restorative swale area. The design team also prohibited using exposed galvanized steel on the project because it leaches zinc which is harmful to aquatic life. Implementation of this holistic, beyond the project site, green stormwater swale infrastructure is a reoccurring ambition for this development team that has seen much success (Link). Part of its success is that it provides both afunctional water quality benefits and provides the urban public street with much-needed green space. Functional green spaces like the swales facilitate biophilia, or the innate human instinct to connect with nature and other living beings (Link).
I believe that the strongest foundation of sustainable behavior is a love and admiration for nature. Biophilic design recognizes this and strives to create opportunities within our built environments and communities to connect people to nature. The human health and wellness benefits of biophilic design are significant and documented in several valuable resources. The design team referred to and conducted a design charrette based on the 14 Patterns of Biophilic Design by Terrapin Bright Green (Link).
One of the most direct examples of connection to nature at Northlake Commons is the exterior breezeways, which the design team dubbed Connectors. These Connectors are not only intended as a means of circulation but are 40 feet wide and intended as legitimate outdoor office space. They are outfitted with overhead cover, lighting, electrical outlets, and capacity for outdoor heaters to keep them functional all year long. There are two such Connectors at each level. The Connector to the north has views of the bike trail and park, the Connector to the south has views of the lake, and both overlook the landscaped courtyard below.
The sensory interaction provided by these Connector spaces is likely to offer people improved cognitive function and reductions in systolic blood pressure and stress hormones (Link). The ability to have a space where one can seek reprieve from their indoor environment has excellent psychological value, especially in today's context of a pandemic.
The true biophilic heart of Northlake Commons is the mass timber structural system: comprised of cross-laminated time floors and glue-laminated timber columns. Mass timber is highly regarded for its reduced embodied carbon impacts, and studies find mass timber to take 25% less carbon to create the same structural system as a concrete building (Link). Low embodied carbon is an important reason to investigate and advocate for mass timber on any project. However, there are values to be toted beyond the carbon footprint. Northlake Commons elected to use mass timber for its structural system early in design. Despite the supply chain issues and materials escalation of the last two years, a different structural system was not considered by the ownership and development team. The commitment to mass timber is likely because the development and ownership team recognized the market value of differentiating themselves in the commercial office market. In a real-estate market where office buildings are typically constructed of steel and concrete, there is genuine value in the alluring aesthetic of wood that helps new construction stand out from the rest, thereby increasing leasing potential. There are also cost savings impacts by designing a lighter building structure requiring less significant foundation design and therefore costs. I find this win-win reality of mass timber very encouraging. Whenever a solution can function well on many unique fronts, it rises to the top as a viable answer to come back project after project.
It was, for this reason, that the building's design concept was able to revolve around wood reliably. The design concept is inspired by a walk in the woods and the distinct layers of the forest. The forest floor, the understory, and the canopy. The multistory timber columns and bark-like building cladding represent the understory. A sunken garden represents the forest floor. The overhead Connectors act as the canopy. True to the patterns of biophilic design, there are sensations of refuge, mystery, risk, and prospect throughout the plaza experience. Walking along a path, moving between tall timbers, crossing a bridge, and an ending with an expansive view of the water. The connection to nature is not only referential but, instead, an authentic experience replicated in an urban environment.
Project Team:
Principal in Charge: Kristen Scott
Design Principal: Cody Lodi
Project Managers: Myer Harrell & Todd Mayne
Project Architect: Brittany Porter
Project Coordinator: Jiao Mei
Landscape Architecture Principal: Rachael Meyer
Landscape Designer: Shoshanah Haberman