By Chelsea Gorkiewicz
One might say that Associate Chelsea Gorkiewicz is a free spirit, except for the fact that she's an extremely focused, hard worker with laser-sharp attention to detail when she's in the office. It's outside of the office, on evenings, weekends and week-long trips that she really starts to let loose. Whether it is learning to play the accordion, exploring the vibrant music scene in Seattle, or volunteering, she's bound to be up to something interesting.
Thoughts
News
A Quick History of the Front Porch

Take a stroll through any established residential neighborhood in Seattle and you will see porches on the majority of houses. A commodity in the mid-1800s until the 1950s, the front porch was popular for many reasons. The ideal front porch was large enough to accommodate seating for a number of people, stood a few steps above street level, and afforded protection from the elements while still capturing cool breezes in the summer. The front porch was where home life happened: a place to socialize with neighbors, visitors, and family members; a light-filled extension of the home; a vantage point affording views through the neighborhood; a safe, liminal space between public and private. It put "eyes on the street"- a famous phrase from Jane Jacobs- promoting community safety through social capital in urban communities. It was not uncommon for people to know their neighbors and socialize with them on a regular basis: the front porch was the architectural mediator in the community.

The ubiquitous front porch faded from popularity with the rise of new technologies. Radio and television provided a new source of entertainment for families, pulling them indoors. The far-reaching influence of the automobile included the creation of sprawling, car-centric suburbs, where houses often featured attached garages, allowing residents to pass from car to home without stepping outside. Streets became louder and less pedestrian friendly, making the porch a less comfortable environment. Air conditioning replaced the need for an outdoor environment to combat the heat of long summer days. After WWII, the porch was replaced by a simple stoop with little room to pause before entering a home.
Since then, cultural values have slowly evolved, and in Seattle at least, there is a growing movement towards revitalization of the urban streetscape for pedestrian enjoyment. Driven by the current construction boom and careful city planning, our neighborhoods are becoming denser and more walkable. Recently, Seattle Department of Transportation announced the permanent adoption of the Parklet Program, which creates an opportunity for reclamation of urban parking spaces for pedestrian use. Coffee shops with outdoor tables at which to linger, roaming food trucks that turn parking lots into a lunchtime buffet of worldly scents and flavors, and a growing parade of pedestrians on the street all take advantage of our revitalized urban streetscapes. At Weber Thompson, we believe the time and environment is right for the reintroduction of the front porch into Seattle's urban lexicon.
Elan Uptown Flats: An Introduction
Elan Uptown Flats is a multi-family project currently on the boards at Weber Thompson. It will be located on First Ave W at W Thomas St, which is currently occupied by a parking lot and a two-story Elks Lodge. This location is a few blocks away from the main urban core of Lower Queen Anne. Multi-family, commercial and office buildings predominantly characterize the area, which lies in the shadow of the Space Needle. The property will be redeveloped with 182 apartments in two buildings, ranging from studios to three-bedroom units.
The focus of design for this clean, modern building is a sophisticated material palette, including stack bond brick, finely textured fiber-cement panels in neutral colors, and vertically oriented windows. Interior design, also by Weber Thompson, will feature subdued yet rich natural materials, invoking the feel of the Pacific Northwest.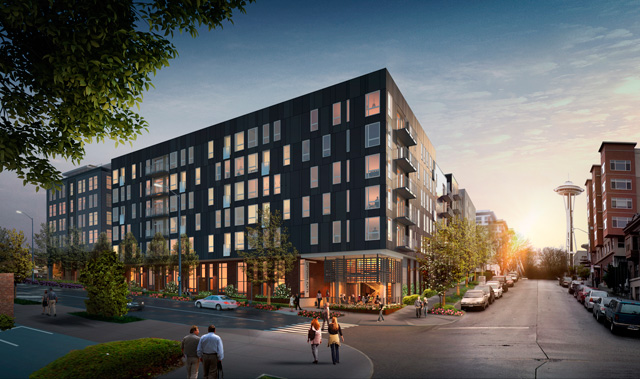 With so many multi-family buildings being constructed in Seattle during this current building boom, the defining elements are often the amenities offered within the building. Elan Uptown Flats will feature a club room, gym, two rooftop decks including a BBQ area and dog run, and plenty of off-street parking. But the amenity that I think will set this building apart is the front porch!
By incorporating a front porch into the building, Weber Thompson aims to reinforce the pedestrian oriented urban streetscape in the neighborhood. The front porch is an ideal transition zone between public and private, exterior and interior. Sometimes multi-family housing prioritizes privacy over interactivity, but by creating a safe location for residents to linger and interact with their neighbors in the building as well as the neighborhood, the front porch at Elan Uptown Flats will be a vehicle for creating a sense of community.
Collaborative Design for a Community Space
The front porch design recently benefited from a Studio Pinup at Weber Thompson. These informal gatherings are a chance for project designers to solicit constructive criticism and ideas for a project that is "on the boards" from everyone in the firm interested in participating. Design does not happen in a vacuum, and in my opinion, some of the best design is collaborative.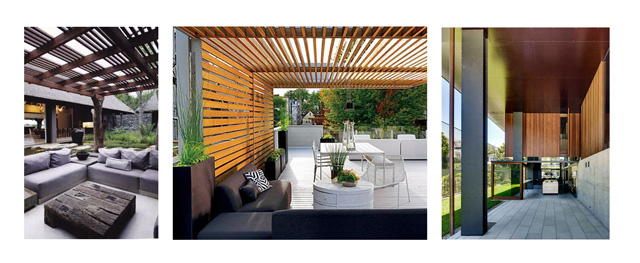 The Studio Pinup for Elan Uptown Flats brought together a great mix of WT employees, from all fields and experience levels, to exercise their problem solving and critical thinking skills. We had a lively discussion about the orientation and materiality of the front porch. How close to the street should the porch be? What kind of lighting is the most conducive to residents mingling in the evening? Could we include a fire pit, and what about a porch swing? The creative details are still being sketched out, but I know if I called the Elan Uptown Flats home I would be a regular on the front porch!