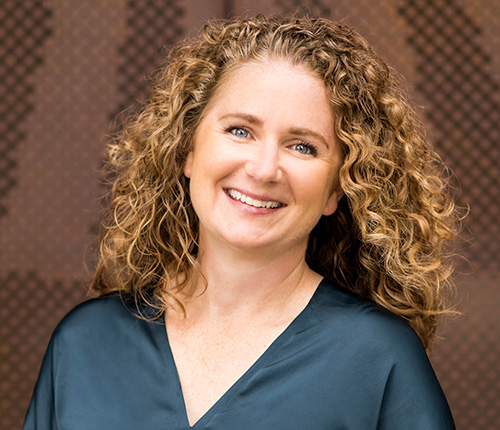 By Amanda Keating
Senior Principal Amanda Keating bridges the gap between aesthetic judgment and technical understanding. At Weber Thompson, she manages the design, documentation and construction administration of large-scale, mixed use projects with the firm's mid-rise and high-rise groups. Amanda is renowned for her thoughtful, even-keeled approach and calm management style.
Thoughts
News
"Act with integrity in all things. I prioritize integrity with everything that I do, and I think if you make a choice with integrity, it will always be the right one."

---
Senior Principal Amanda Keating leads Weber Thompson's award-winning high-rise team; one of a select few women high-rise leaders here in Seattle. She started at Weber Thompson in 2005 and quickly rose through the ranks due to her dedication, empathy and tenacity.
How did you grow into the leader of WT's high-rise studio?
I didn't set out to lead a high-rise studio. I started in high-rise peripherally, working with Blaine (Weber) on the Ascent/Marlowe project (a high-rise/mid-rise development in South Lake Union). I was a sponge, learning everything I could. Then I took on a few high rises as Principal-in-Charge before Blaine retired, he guided me and acted as a mentor. I'm still learning, and the fact that we have such a strong high-rise team has made the transition seamless. It's a foundation built on mutual trust and respect – they trust me to lead them, and I trust them to allow me grace in navigating this new, important role.
Do you have any specific philosophies on leadership?
I never equated leadership with being "the boss." Since I was young, I've been told I'm a natural leader. Relating to people, being a good mentor, and successfully leading a group is something that I feel comes naturally to me. But, I never equated that kind of leadership with leading a firm or being responsible for owning a firm. I don't take ownership for granted. I equate leadership with responsibility, and I take it really seriously. I understand that I'm partly responsible for people's livelihoods.
How do you feel the industry can better support women?
I know the data. Women drop out of the profession mid career at a higher rate than men. That's the most jarring and significant data point that anyone can point to. Licensure is tied up in that too. I like the idea of making licensure less of a barrier. It's not the only barrier to leadership, but I think that if licensure happened out of the gate, women might stay in the profession longer. You have to be passionate about architecture and if licensure is daunting, or a real barrier in terms of cost and time, it can kill some passion. And if it isn't a profession you see changing and evolving to foster women in leadership you might chose to leave and go to a different industry.
What advice would you offer to others looking to grow into leadership?
Act with integrity in all things. I prioritize integrity with everything that I do, and I think if you make a choice with integrity, it will always be the right one.
Also, I want to tout the ULI Center for Leadership. They are focused on promoting diversity in leadership. It is a full year program, which I have been taking this year, and I intend to stick with it and become a mentor for future leadership cohorts. It is so impactful, we are all learning from each other. This added layer, this intentional lens of inclusive leadership is mind-blowing, and frustrating, because why did it take us all so long to get here? It is very impactful and important.