The Post
Located in "The Commerce District" near the ferry terminal, The Post is a decidedly modern residential tower, yet it speaks to the medley of styles, heights, and character of the adjacent historic and beloved Pioneer Square. This project is where gritty urban industrial meets contemporary chic, with a dose of whimsy.
Client Name
Goodman Real Estate
Location
Seattle, WA
Completion Date
Q4 2012
Services
Architecture
Landscape Architecture
Interior Design
Certifications
2009 LEED Certified for New Construction
PROJECT Overview
16 Stories
183,329 SF Residential Space
10,000 SF Retail
208 Residential Units
Full Block Site
Awards
2015 DPD People's Choice Award, First Place, High-Rise
2014 Emerald Award Finalist – Community of the Year (+151 Units) Washington Multifamily Housing Association
Services
Weber Thompson provided architecture, interior design and landscape architecture for The Post, ensuring continuity between building form, interior spaces, and exterior hardscape and planted elements. This highly successful project is a bit edgy, with exposed concrete ceilings and mechanical elements, but the design is uber-modern with a glass and terra cotta curtain wall that connects to and complements its neighbors.
PHOTOGRAPHY: LARA SWIMMER, WEBER THOMPSON, VICASO
The Post Architecture
A sleek glass curtain-wall incorporates terra cotta scale elements that create a contextual relationship to the datum and saturated color of neighboring buildings. A transparent two-story structure, "The Cube," sits in a landscaped public plaza that links The Post to the Colman Ferry Pedestrian Bridge.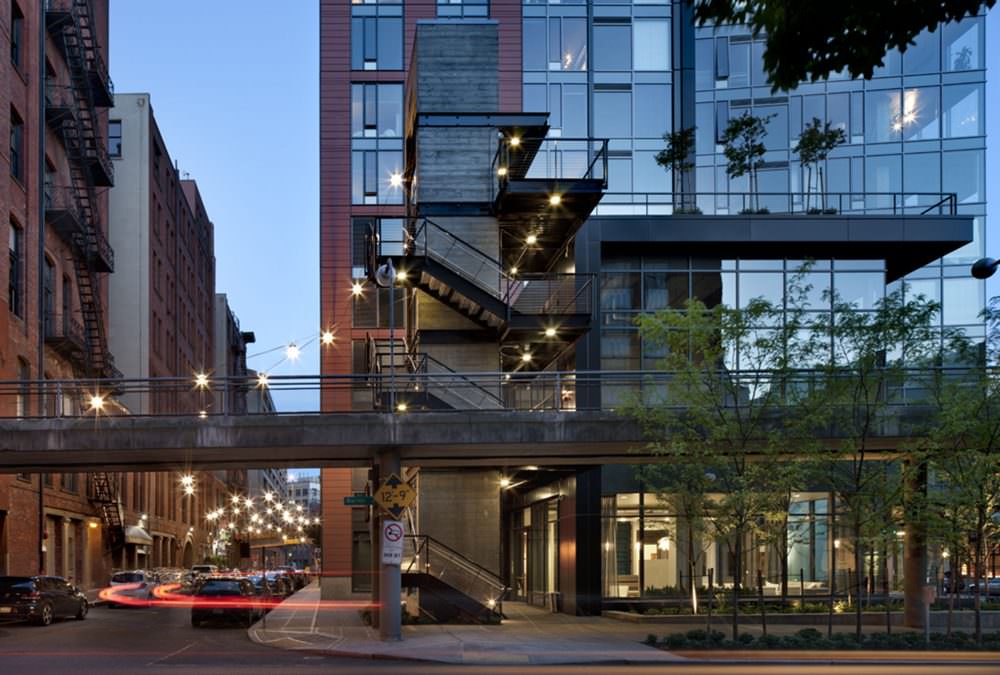 Contextual sensitivity
Along Post Avenue, a narrow street that feels more like an alley, the building incorporates a courtyard to give some breathing room and bring light and air into the slender street. This helps create an active retail / pedestrian zone, with festoon lighting strung between The Post and neighboring Colman Building. This illumination creates a sense of canopy and an active outdoor space with a festive atmosphere.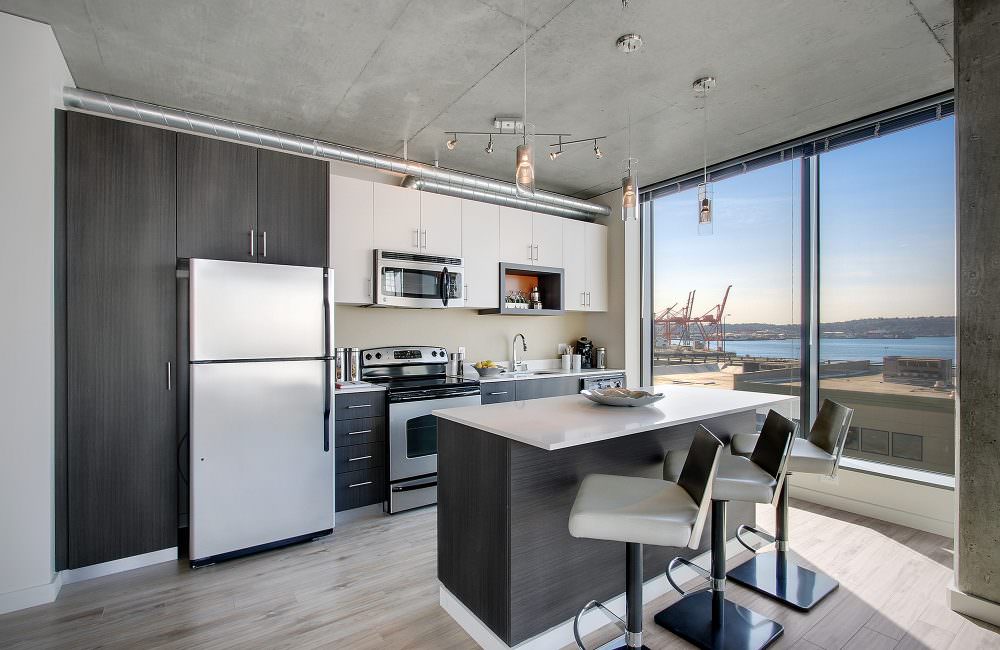 Industrial chic
Units at The Post feature exposed concrete ceilings with modern finishes and appliances. Spaces are designed to support flexibility while maximizing views.
The Post Landscape Architecture
Taking cues from The Post's architecture, Weber Thompson created a design that is simple and unfussy – with clean, pure lines and a strong, minimal plant palette.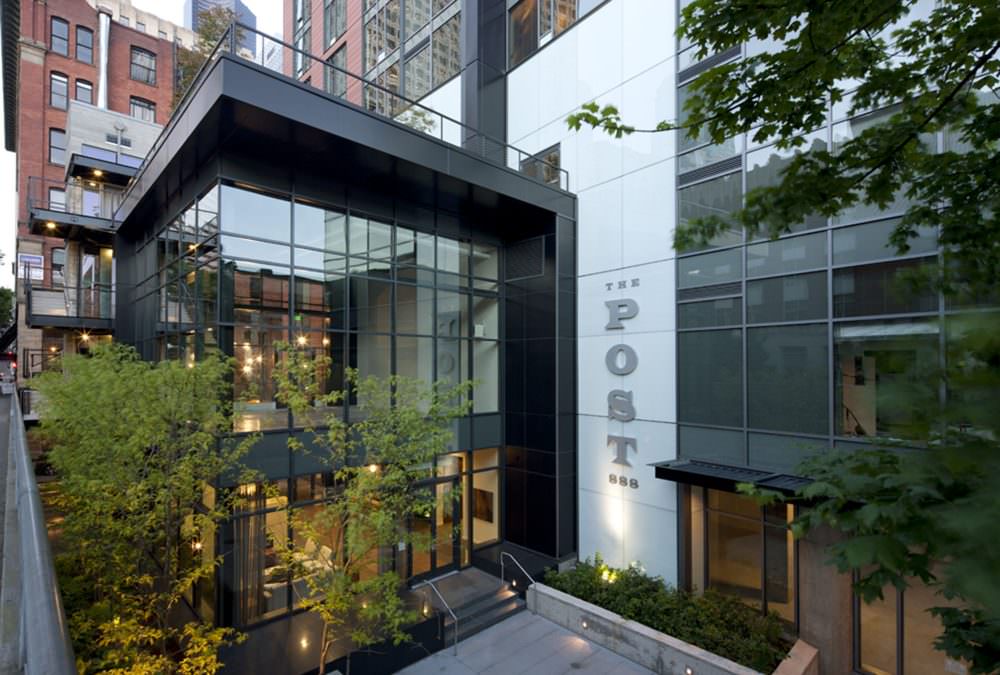 The glass cube
On Columbia Avenue, we installed a grove of honey locust trees to help encapsulate "The Glass Cube" and its granite plinth. Along with the entry plaza, this helps to create a public oasis, tucked under the Colman Ferry Dock pedestrian bridge, with the trees' fine foliage reflecting the delicate transparency of The Cube while at the same time framing the pedestrian bridge and sidewalk. Around Western and Marion Avenue, new street trees and fragrant ground cover plantings line the roads and soften the urban edge.
Stormwater mitigation
Moving up the building, on the sixth level, stormwater planters of native plants catch and store roof rain water and create a visual amenity for the surrounding resident units.
The rooftop hub
The rooftop level is the hub of The Post's amenity spaces. Simple plantings define outdoor sitting areas with long low planters filled with ornamental grasses creating foreground views from the indoor amenity spaces. The main roof garden feature is a reflecting pool with a tigerwood platform, wide enough for lounging. Two Japanese Maples and a Japanese Black Pine anchor one end of the pool.
"Been living here for a few months, fantastic location, excellent apartments and amenities [...] and you can't beat that view."
Michael A, Resident
"The Post apartments are perfect, the space, the location, the amenities, the management – everything and everyone is just beyond amazing."
Resident
"Excellent! I've been visiting Seattle for over 25 years. The Post is my favorite place for the location and friendly staff. I'm looking to relocate back to Seattle and The Post is my first choice."
Christina B, Prospective Resident