Clay
The Clay project is located in the Capitol Hill neighborhood and consists of 76 micro-units.  Located on the site of the old Redwood Bar, the interior design references some of the vintage nostalgia of the bar with its wood paneling throughout, though updated for a modern look. A long and narrow amenity room on the third level is inspired by airstream trailers, seen in the built-in banquettes and window treatments.
Client Name
Blueprint Capital
Location
Seattle, WA
Services
Interior Design
Program Overview
7 Stories
7,676 SF Site
36,122 GSF
24,092 SF Residential
1,461 SF Retail
76 Residential Units
Core & Shell Architecture by SHW
Completion Date
2020
Certifications
4-Star Built Green Certification
Contacts
Bernadette Kelly
Interior Design Principal
Concept words: rad, quirky, fun, colorful, interesting/unexpected, comforting, nostalgic
Quirky & unexpected
The main entry to Clay features a distinctive tile welcome mat and a collection of playful lights spanning the shared lounge space.
Rad wallcoverings
A collection of geometric wallcoverings make long, potentially monotonous hallways memorable and distinctive.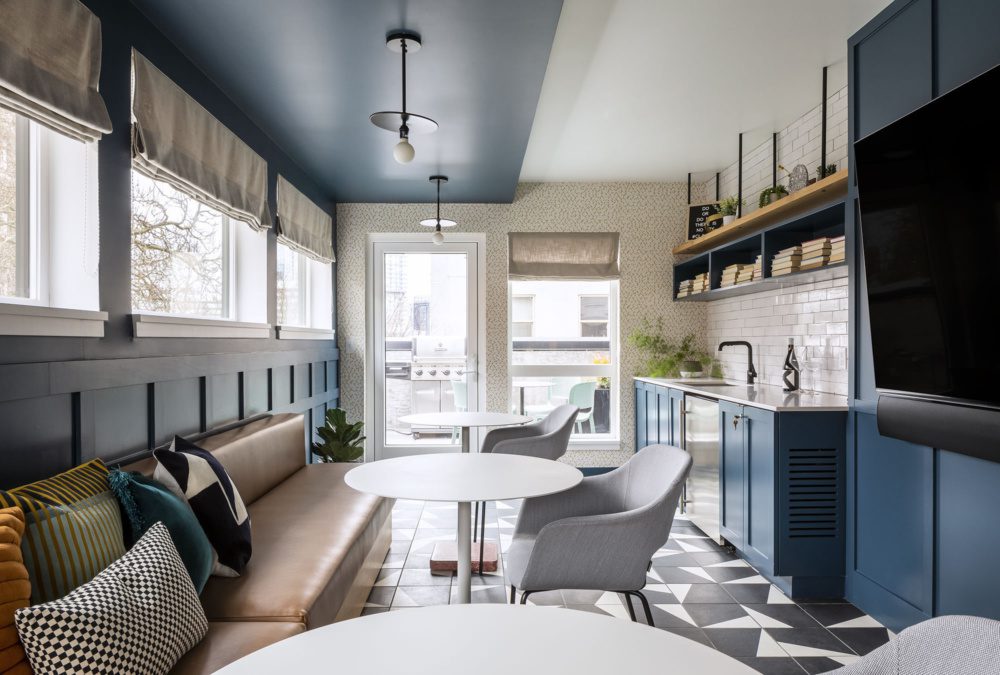 Colorful yet comforting
The third level amenity space was inspired in part by Airstream trailers, with its built-in banquette seating to maximize space and nostalgic, vintage inspired window coverings. The Clay interiors do not shy away from color, enhancing it's fun quirkiness throughout.