621 Woodland Square Loop (UTC)
What's the most sustainable approach to design? Renovating an existing building to give it a new life and renewed purpose. 
Client Name
MJR Development
Location
Lacey, WA
Services
Architecture
Limited Landscape Architecture
Completion Date
Q2 2019
Program Overview
3 Stories
89,750 SF Site
43,600 SF Office
124 Parking Surface Parking Stalls
Designed to suit the new Washington Utilities and Transportation Commission (UTC) headquarters.
Services
Weber Thompson provided architecture and some landscape architecture design for this office renovation and expansion project in Lacey, WA. The tenant improvement was designed by ARC Architects. The landscape architecture consultant was WBLA, Inc. 
PHOTOGRAPHY: Clarity Northwest Photography
UTC Architecture
Weber Thompson was hired to redesign the existing core and shell and coordinate UTC's program and tenant improvement design provided by ARC Architects. The existing building was re-skinned and expanded, extending its lifespan with a new contemporary design. Two additional wings were added to nearly double the building's footprint from 23,000 sf to 43,600.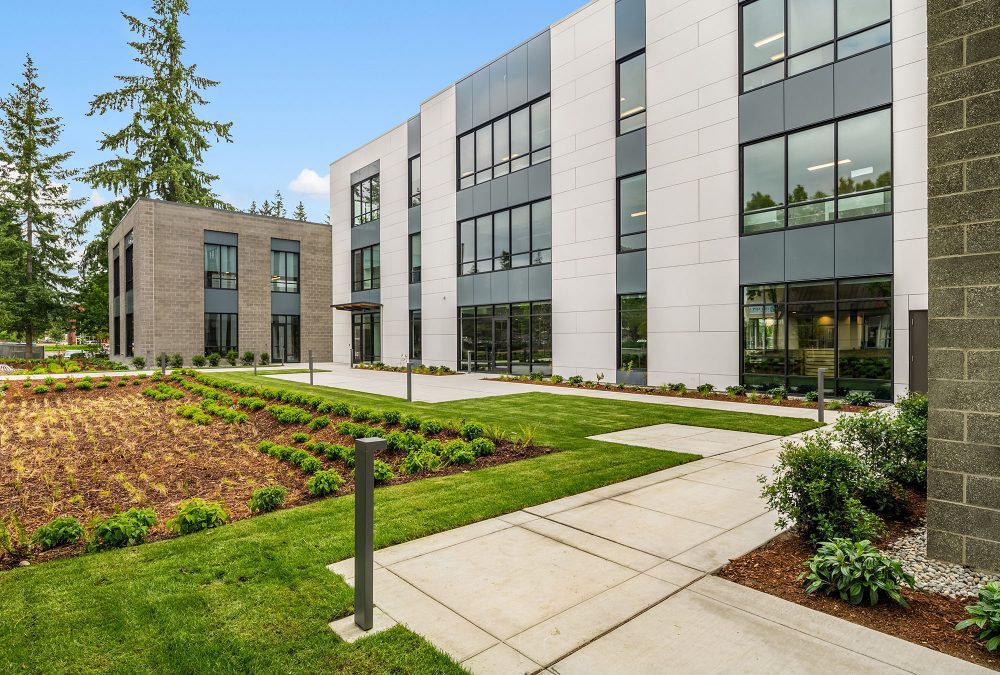 Improved energy performance
The new building emphasizes occupant comfort with ample daylighting, natural materials, a generous lobby and a large landscaped terrace. Improved energy performance was achieved through an efficient envelope and a solar PV array as well as a new storm water management system, all working to demonstrate practical sustainable design solutions.
Embracing a master plan
Building massing was designed to reflect the institutional nature of a government headquarters while allowing for two front doors – the current main entrance facing Thomas W. Huntamer Park as well as another, opposite entrance acknowledging the City of Lacey's future master plan.
The UTC had been in its west Olympia location since the 1980s. We needed a modern work environment for employees and visitors. This new building is home to about 150 employees who were eager to move to the new, modern space.

UTC Employee
UTC Landscape Architecture
As a suburban office building, the new UTC Headquarters building provided ample opportunities for stormwater mitigation and outdoor spaces for employees and visitors to relax. Weber Thompson's Landscape Architecture team helped support the Landscape Architect: WBLA, Inc. 
A park-like setting
The project provides an accessible connection to the adjacent park, which serves as the hub of Lacey's community events. Outdoor patios and gathering spaces at UTC are open to the public, highlighted by a newly created rain garden. Further contributing to the project's sustainable initiatives are electric vehicle charging stations in the parking lot.
Sustainability
Conserving and modernizing an existing building was a guiding principle for the project, inherently resulting in a reduced carbon footprint. A variety of high-performance strategies were implemented in the development including: a well-insulated, tight envelope which reduces solar heat gain in summer and heat loss in winter; smart lighting which reacts to natural lighting levels; improved energy efficiency with a projected EUI of 30; a variable air volume system (VAV) and dedicated outside air system combination (DOAS) resulting in a high-performance HVAC system; and a PV array installed on the south-facing roof which generates energy on-site. 
UTC Headquarters in the News