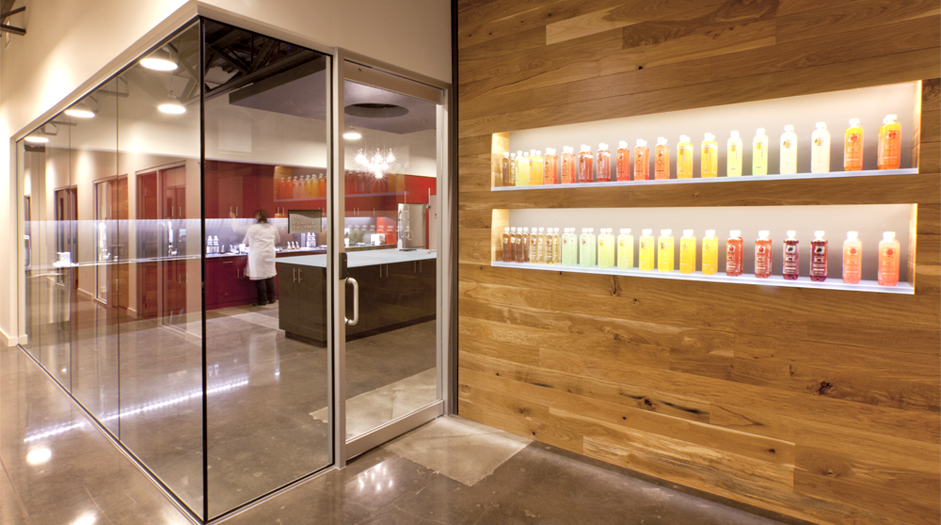 Constantly innovating, TalkingRain Beverage Company struck gold when they took one of their product lines, Sparkling ICE, to the national level in 2010. Until then, this Northwest company had been operating out of traditional offices which were enlarged as the company grew, but lacked a clear design vision. In 2012, they decided it was time to upgrade their digs, and Weber Thompson's Interior Design team was called in for the job.
Carefully considering the location of each interior element during the design process, our team introduced some innovative space planning tactics. Formerly located in a temporary mobile unit, the new research and development office is now housed in a gleaming glass pod that's on display but still fully functional. The board room is adjacent to the lab and has sliding barn doors, allowing meetings to happen in privacy without the feeling of being "behind closed doors." The office has a sense of open airiness, while also being sensitive to the proprietary needs of this R&D-based company.
Responding to TalkingRain's culture of collaboration, our designers located communal layout tables and breakout meeting rooms centrally to encourage impromptu meetings among staff; since moving in, these have been in use almost every hour of the day. The board room includes a custom table with pop-up technology towers that provide telephone, power, and internet connections, and surrounding walls are available for brainstorming, sketching or pin-ups with their white boards, glass walls, and tackable surfaces. The room also features a touch-screen monitor with video and audio conferencing capabilities, giving staff the ability to connect, design, and innovate in any medium they wish.