By Brian Steinburg
Since 2000, Brian has been involved in the design, documentation and management of urban high-rise and mid-rise projects at Weber Thompson. As a Principal, Brian manages large, complex, multi-year projects from pre-design to construction administration; he is a leader in the Quality Management Task Force, and runs the firm's internal Project Manager Forum.
Thoughts
News
Project overview:
Client: Greystar
Program: Student Housing
Height: 21 Stories – 240'
Site: 20,610 SF (.47 acres)
Units: 226 (597 beds)
Projected Residents: 597
Resident density p/acre: 1270
According to the University of Washington's 2019 Transportation survey, 79% of UW students use transit to commute to school and make up 61% of the schools 312,000 weekly commute trips by UW employees and students. Of UW's 47,000 students, 59% live over a mile from campus, and 29% live over five miles away. Even with substantial housing options in and around the U-District, UW is predominantly a commuter school. In the last decade there has been a massive effort to expand on-campus or campus-adjacent living options by both public and private entities.
Until recently, most of these entries to the student housing market have been mid-rise projects. In 2017 Seattle up-zoned the U-District to allow for high-rise projects; up to 320 feet in some areas. Enter The Accolade, a "pedestrian to campus" student community according to project developer Greystar. At 21 stories and 240' above the U-District, The Accolade is one of a new generation of student housing that rises above the limitations of "dorm life", or what most of us remember as campus apartment living. Providing more than just living "pods" for students, The Accolade seeks to provide a student community, rich with amenities and social engagement.
To achieve this, common areas of the project are critical to the success of an immersive student life experience. At The Accolade, amenities are extensive, rivaling even luxury apartments. We compared The Accolade to five other residential high-rise projects. The Accolade dedicates 5% of its total development square footage and 7% relative to leasable area to amenities while the average high-rise apartments we investigated dedicated only 3% and 5% respectively.
Unlike its luxury market-rate, high-rise apartment contemporaries, The Accolade is focused on renting bedrooms as opposed to apartments. Student apartments range from traditional studios to shared groupings of bedrooms (2-4) with shared bathing and kitchen facilities in each apartment. Attracting groups of students to rent bedrooms in shared apartments means the population density can be much higher than even the tallest high-rise apartments.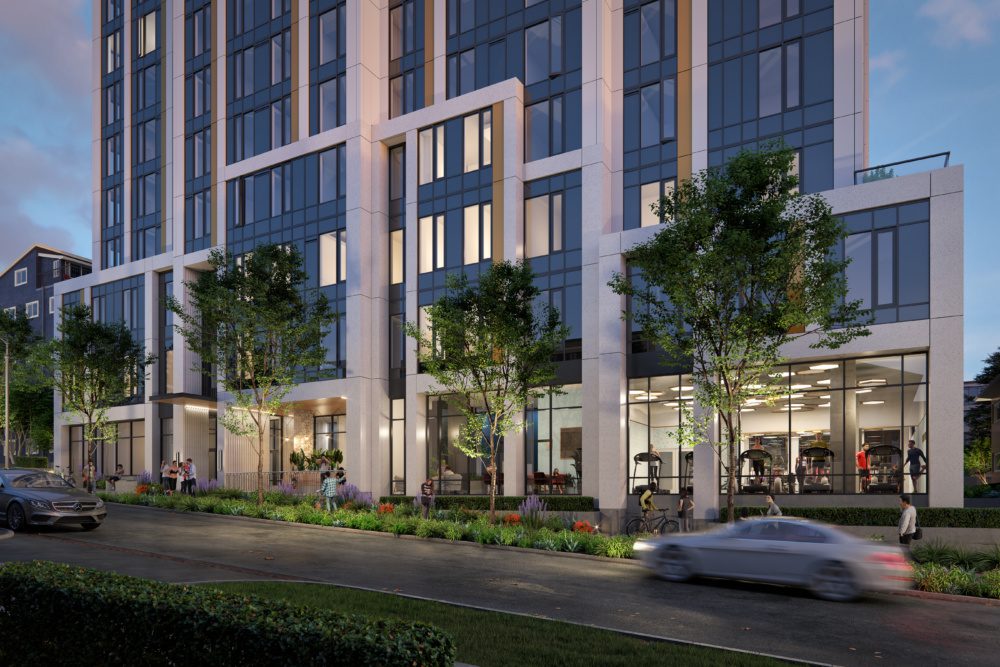 While the high resident density provides the critical mass for income, trade-offs needed to be made to keep the project relatively affordable. These trade-offs were not sacrifices, instead the project team adjusted the program to reflect the actual NEEDS of students, helping lower the cost of construction. These adjustments include:
Eliminating all parking, reinforcing Greystar's "pedestrian to campus" ethos.
Reducing the size of the elevator and stair structural core, and lowering elevator speeds.
Reducing the number of bathrooms per bedroom (1 per 3BR or 2 for 4 BR unit), and corresponding fixtures per bathroom.
Reducing the size of residential unit kitchens and living areas, to promote social interaction in the much larger common amenity areas.
Key differences in finishes also keep student housing high-rise construction affordable. Market-rate apartments demand a high level of finishes and materials in the residences as well as the common areas, while student housing focuses the top-dollar materials on the common areas. The apartments themselves require more durability from daily wear and tear, and students do not typically demand the top-of-the-line appliances, fixtures, or finishes.
The Accolade is one of a new generation of high-rise student housing projects that will be popping up in the U-District (you can already see the cranes rising) over the next few years. These projects will provide new housing to meet the needs of students who want to live closer to the university they attend.
Previously – High rise: Not just for luxury living anymore
Next on – Waverly: The "missing middle" found