By Monica Knapp
Monica Knapp is an Interior Designer and has worked at Weber Thompson for thirteen years. When she's not chasing her kids, churning ice cream, or selecting luxurious materials palettes for her projects, she's posting content on the Weber Thompson Interior Design Studio's Instagram account @beyondthetrace.
News
Thoughts
Lately, my Instagram feed is exploding with pictures of sourdough loaves, hand carved wooden spoons, incredible produce from newly cultivated home gardens, and countless other quarantine hobbies that have emerged during our time at home. The creative output I was seeing was truly impressive. As a working parent trying to find time to juggle work while parenting my kindergartener and simultaneously chasing a toddler (who has the stealth of a seasoned cat burglar), I honestly couldn't imagine squeezing in another thing.
And then, unbelievably to me, I found myself taking on a quarantine hobby of my own: ice cream.
It started with a craving for the perfect chocolate peanut butter ice cream. I busted out my ice cream maker and got to work. It was a huge success. Then I tried making another flavor. And another. It became an obsession and I started dropping off containers of specialty ice cream like Espresso Bourbon and Mint Oreo to friends and family. At first the deliveries from my little ice cream speakeasy were being handed out in reused yogurt containers but as the recipient list expanded, I decided I needed a packaging upgrade. I invested in some compostable pint containers and designed a goofy little logo sticker to put on the side that really represented me.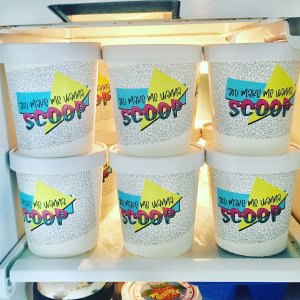 And with that, my very unofficial underground ice cream gig leveled up and got a new name: You Make Me Wanna Scoop. As someone who came of age in the 1990s, I realized there was no better way to pay tribute to my love of 90s music than to reference one of my favorite hip hop jams of all time by the insurmountable Salt N Peppa. Finally, I understood the draw of adding a quarantine hobby to an already maxed-out schedule – it was in the joy of brightening someone else's day with a surprise gift that I created.
A variety of hobbies on display
But this is only my story – other Weber Thompson staff members have been refining their own quarantine hobbies while stuck at home this year. Projects have included recording music, sewing face masks, planting veggie gardens, baking bread, making macramé, and cooking new types of cuisine. Earlier this year, we held a virtual happy hour and asked staff to feature some of their projects, and we were blown away!
What's even more impressive than the myriad creative outlets our staff have found this year is their generosity.
For this year's Food Frenzy, an annual fundraising competition for Food Lifeline, our staff stepped up to the plate. In order to encourage donations, we offered incentive 'prizes' – all of which were the fruits of our staff's quarantine projects!
I'm so humbled to work with such talented and generous folks, and although we can't be together at this time I feel encouraged by the comradery of my team. Our efforts for Food Frenzy far exceeded my expectations, and I've shared more in this follow-up post.
While so much is uncertain it's clear: creative folks must find creative outlets! If it manifests itself as frozen treats, all the better.