Premiere on Pine
Premiere on Pine is a highly sophisticated residential tower with a definitive New York vibe – doorman included! Located adjacent to the treasured, and landmarked, Paramount Theatre, Premiere on Pine soars 40 stories above Seattle's celebrated theater district and Convention Center. The tower is marked by a bold and vibrant LED-illuminated glass art façade that changes through the full color spectrum, further enhancing this vibrant arts district.
PROJECT Overview
440′ Tower
40 Stories
13,550 SF Site
499,500 GSF Building
277,560 SF Residential Space
3,440 SF Retail
386 Residential Units
266 Parking Stalls
Contacts
Amanda Keating
Senior Principal
Rachael Meyer
Landscape Architecture Principal
Services
Weber Thompson provided comprehensive architecture and landscape architecture for Premiere on Pine, ensuring continuity between building form and exterior hardscape and planted elements.
PHOTOGRAPHY: John Granen, Weber Thompson
Premiere on Pine Architecture
Weber Thompson inherited this project and re-tooled it to meet the client's vision, increasing the number of units, completely reworking the structure and all systems, and removing all the private decks. In this rethinking of the entire program, the team also designed spaces to accommodate a generous amenity package with a dramatic hotel-inspired roof-top Sky Lounge.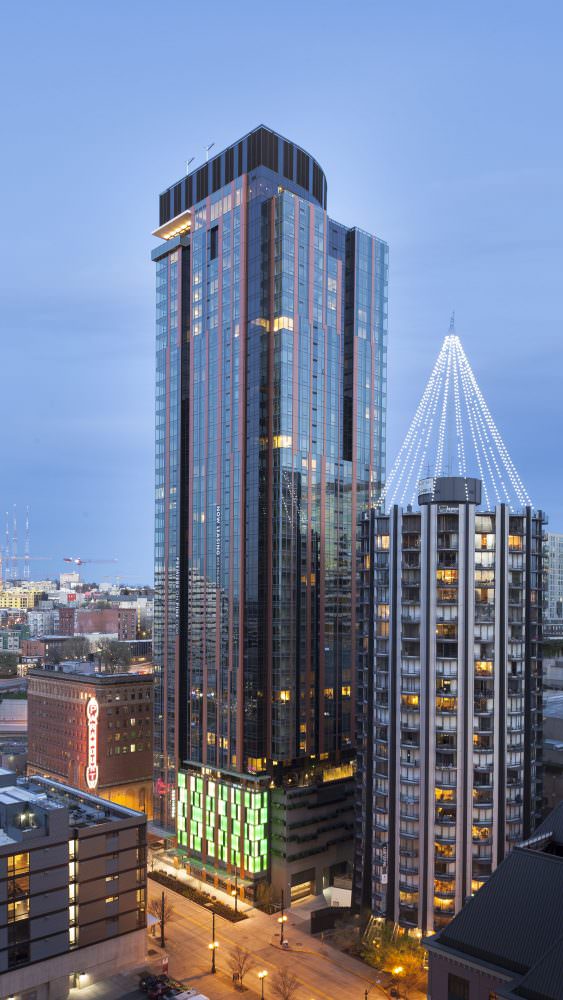 Inspired by Theater
To celebrate its location in the theater district, the base of Premiere on Pine's structure features two massive LED-backlit glass art walls that cycle through the full color spectrum. This conceals the above-grade parking and contributes to the liveliness of the area. Serving all those theater goers, Doughzone is located at the corner of 8th & Pine and runs the entire length of the north façade. This became possible when the design team reoriented the shear core 180 degrees, and located the residential entrance on the relatively quieter 8th Avenue façade.
The tower is marked by a bold design that incorporates a playful curtainwall façade composed of high-performance glass broken by a staccato rhythm of metal columns with a fragmented, stepping verticality that reaches for the sky. Rich, earthy rust, gray and bronze tones complement the vintage masonry tones of the adjacent 1929 Paramount Theatre.
"I've lived in Seattle for 3 years now, and Premiere has made living in downtown Seattle a true pleasure!"
Carey B, Premiere on Pine Resident
Premiere on Pine Landscape Architecture
At Premiere on Pine, exterior spaces are key. Residents can take in breathtaking views of the skyline, water and mountains, curl up in a private seating alcove with a good book, or entertain friends on a warm summer evening in the many nooks and crannies of the richly landscaped amenity terraces.
Alfresco elegance
Premiere on Pine features a generous amenity package rich with outdoor spaces. The highlight is the rooftop terrace, which features BBQ stations, intimate dining areas and gathering spots for alfresco gatherings.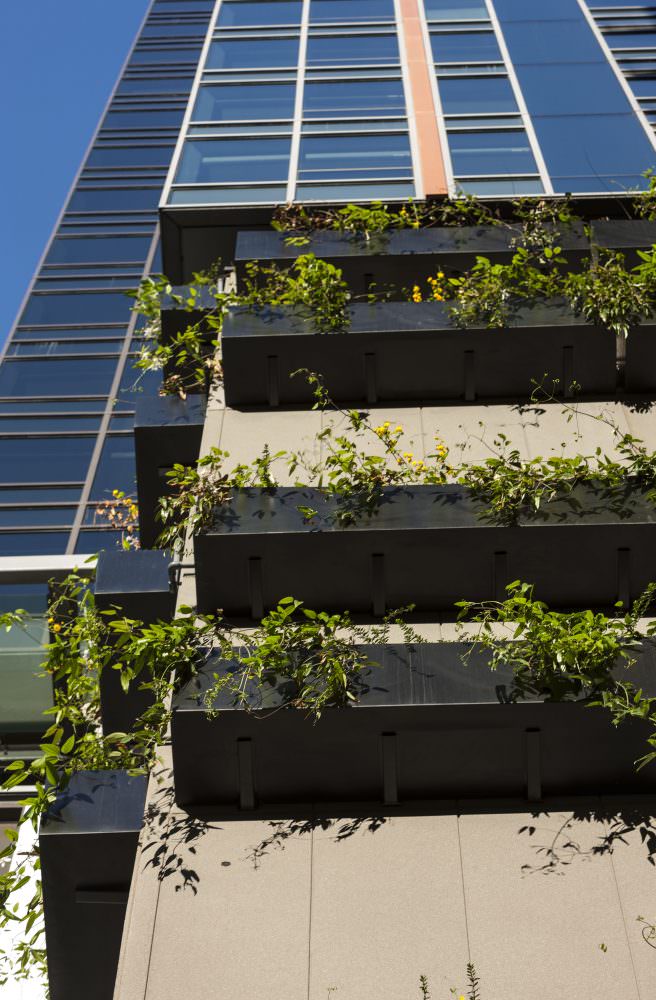 Going green
The plant palette is an eco-friendly selection of drought-tolerant selections. A green wall on the west façade provides an attractive biophilic screen element.
Sustainability
Premiere on Pine is LEED Silver certified. A host of sustainable features are incorporated into the building including a highly efficient boiler and chiller system that will supply hot and cold water to a water source heat pump in each individual apartment for heating and cooling. Premiere on Pine also uses recycled content and locally harvested and manufactured building materials.
Premiere on Pine in the News