Broadstone Meta
The concept for the interiors at Broadstone Meta was inspired by the graphical language of music, with a pacific northwest sensibility. The design elements throughout are lyrical and metered with an infusion of materials found here in the PNW.
Client Name
Alliance Residential
Location
Seattle, WA
Services
Interior Design
Program Overview
294 Residential units
Concept inspired by materials found in the Pacific Northwest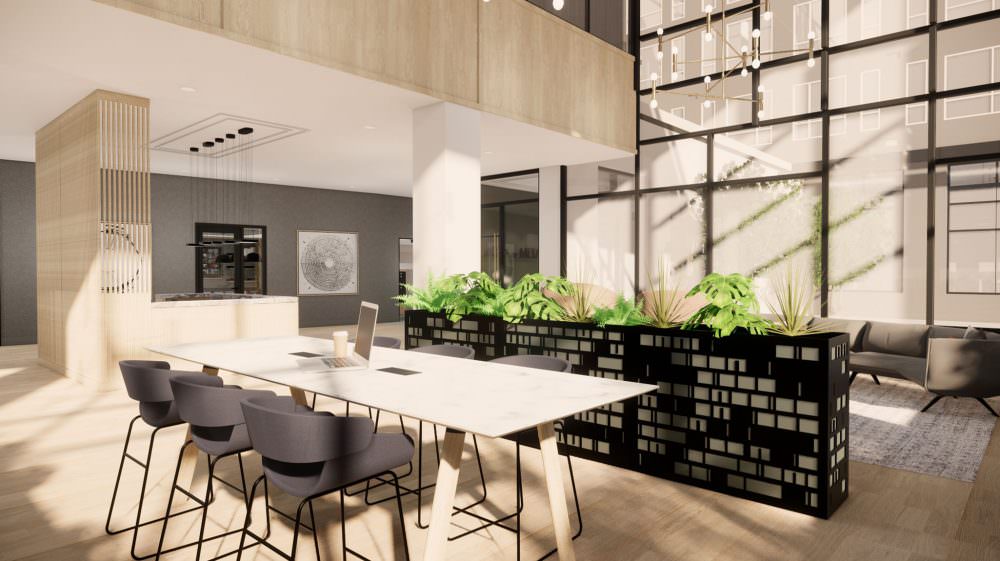 Concept in practice
Like a beautiful piece of classical music, the interiors of Broadstone Meta are elegant and sophisticated, carrying the eye through the space with restraint at times and bold strokes at others. The palette is tastefully subdued, allowing the handful of carefully curated show-stopping elements to take center stage. Soft grays and light wood set a perfect backdrop for the design; the rhythm of the wood slats provide an underlying syncopation throughout the property, while stunning lobby light fixtures celebrate the double-height space.
Creating opportunities for spontaneous collaboration
The amenity spaces at Broadstone Meta were designed to cater to a modern way of working and socializing. With a mix of open yet defined pods and more private focus and collaboration areas, residents are encouraged to use these communal spaces much like they would their own living room. Creating spaces that draw residents out into the shared amenities fosters spontaneous meetings that encourage familiarity of residents and a greater sense of community.
Inspired by music and the PNW landscape 
The Club Room at Broadstone Meta is both modern and elegant, with subtle nods to the building's design concept: the graphical language of music, rooted in the materiality of the Pacific Northwest. The decorative lighting recalls written music notes and the linear design elements are metered and rhythmic. The high contrast veining in the natural stone counters call to mind the craggy mountain peaks of our region, and the warm wood tones and deep green accents echo our iconic lush evergreen forests.