The content for this post was written by Jenny Quill and was originally featured in the July 2019 edition of Alaska Beyond Magazine.
Embracing Smart Design in Seattle
With their kids grown, and a big house in a suburban area to maintain, Hilary, an executive assistant, and Ian, a software engineer, wanted to explore the idea of small-scale, big-city living. They bought a one-bedroom, one-bathroom condo at Nexus Seattle, a 41-story condominium tower in downtown Seattle that will be ready for occupancy at the end of 2019. They'll initially use the condo on weekends while they decide if city living is right for them.
"I'm attached to my home, but it's time for a change," says Hilary. "We're relatively young, and retirement isn't on the horizon. It's a good time to figure out what we really want."
Nexus Seattle is in a northeastern part of downtown that's being marketed as "East Village," part of an area known as the Denny Triangle. Located approximately at the intersection-or nexus-of Seattle's Capitol Hill, Belltown and South Lake Union neighborhoods, "the up-and-coming East Village is a gateway to all these different neighborhoods," says Rachael Bauer, an interior designer and senior associate with Weber Thompson, the project architecture and design firm. "We incorporated that idea into the building itself," she says. "If you were to look up at the Nexus tower, you would see that the building comprises a series of cubes set at different angles. These represent the merging of ideas and street grids from different parts of Seattle."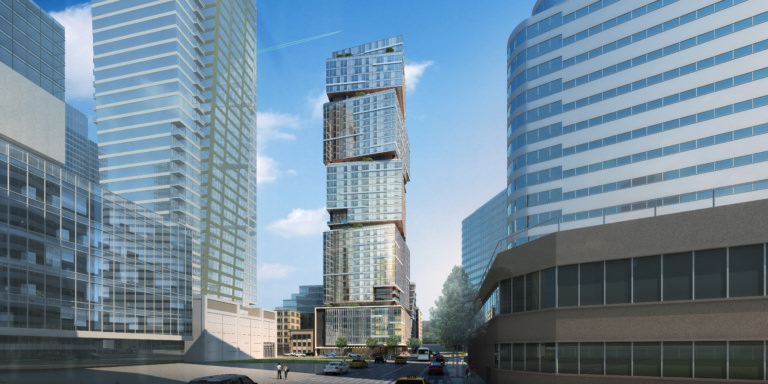 The appealing interiors at Nexus Seattle are complemented by a novel exterior design. Cubes are set at different angles to represent the merging of ideas and street grids from different parts of the city.
For Hilary and her husband, another of Nexus' selling points was the integration of home-automation and smart-device technologies-a nod to Seattle's tech industry and urban lifestyle. "My husband is a techie, so everything in our current house is programmed," says Hilary. "At Nexus, it's already built in, which was really appealing."
For example, a smart thermostat will allow the couple to program, monitor and control their temperature settings through a smartphone app, while a smart-lock home-entry system will let them remotely control access to the unit. They also have the option to install home-automation systems that control lighting and entertainment, and they can book onsite yoga classes through a virtual concierge. Even windows can get a tech upgrade with programmable, remote-controlled motorized shades that provide privacy.
And while Hilary and Ian don't currently own an electric car, they wanted the option, so they had an electric port added to their parking spot. Seattle is one of the leading metro areas for electric vehicles, according to data from the International Council on Clean Transportation.
"If you think of the area Nexus is in, Amazon is a few blocks away," says Hilary. "It would seem odd not to do these things, since the area is so technology-oriented."
The home's tech ethos extends to the kitchen, a streamlined space replete with sleek, high-tech Fulgor Milano appliances. A minimalist sliding range hood sits flush with cabinetry when not in use. The induction cooktop is designed to cook faster and be more responsive than a regular electric range.
The kitchen design is perfect for a new pared-down city lifestyle, Hilary says. "We're cooking less, and we prepare simpler meals because we're not feeding kids. We don't need space for a ton of food or all the pots and pans. The design appeals to that ease."
– Jenny Quill, Alaska Beyond Magazine