Watershed wins National AIA COTE Top Ten Award
The AIA COTE Top Ten Award celebrates a holistic vision of good design characterized by AIA's Framework for Design Excellence to elevate exemplary projects from which we can all learn.
The Framework for Design Excellence
Click below to jump to a section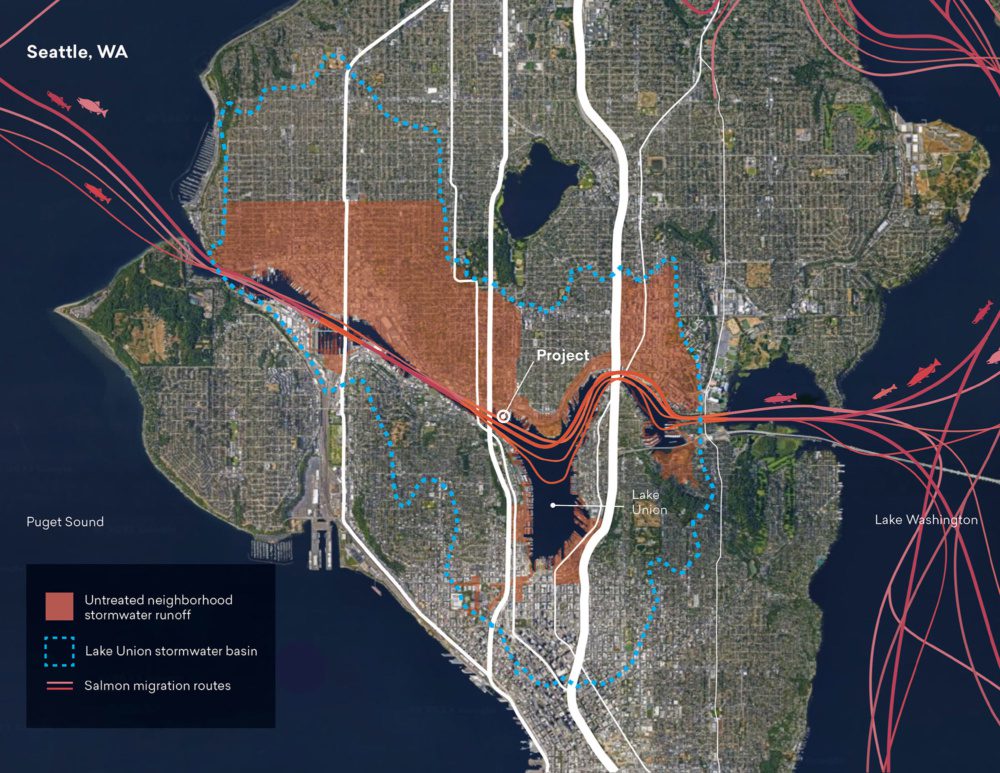 Design for Ecosystems
Mutually beneficial for human and nonhuman inhabitants.
Five types of salmon, a keystone species in Puget Sound, navigate urban waterways polluted with stormwater runoff. Every year, Watershed's right-of-way improvements treat 400,000 gallons of toxic runoff from surrounding streets and the adjacent Aurora Bridge. This work supports a healthier ecology in local waterways, benefitting marine populations and human health.
Design for Water
Conserve and improve the quality of water as a precious resource.
The overhanging roof captures onsite rainwater (200,000 gallons per year), conveying it via a cascading downspout before storing it in a 20,000-gallon cistern for non-potable uses. The rainwater is filtered and re-used for toilets, urinals, and minimal on-site irrigation. With efficient plumbing fixtures and tenant participation, this contributes to a measured 88% reduction in potable water.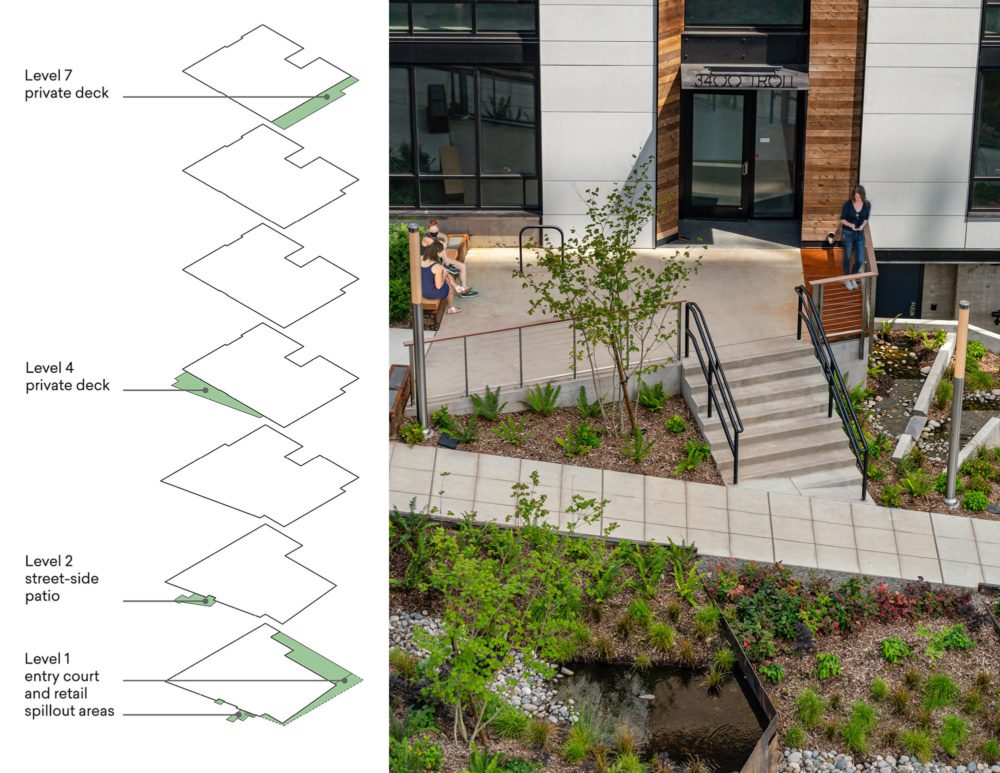 Design for Well-Being
Support health and well-being for all people, considering physical, mental, and emotional effects on building occupants and the surrounding community.
Four out of seven levels of the building have access to exterior spaces, nurturing connections to the outdoors. Operable windows, natural daylight, and views further enhance the biophilic design features.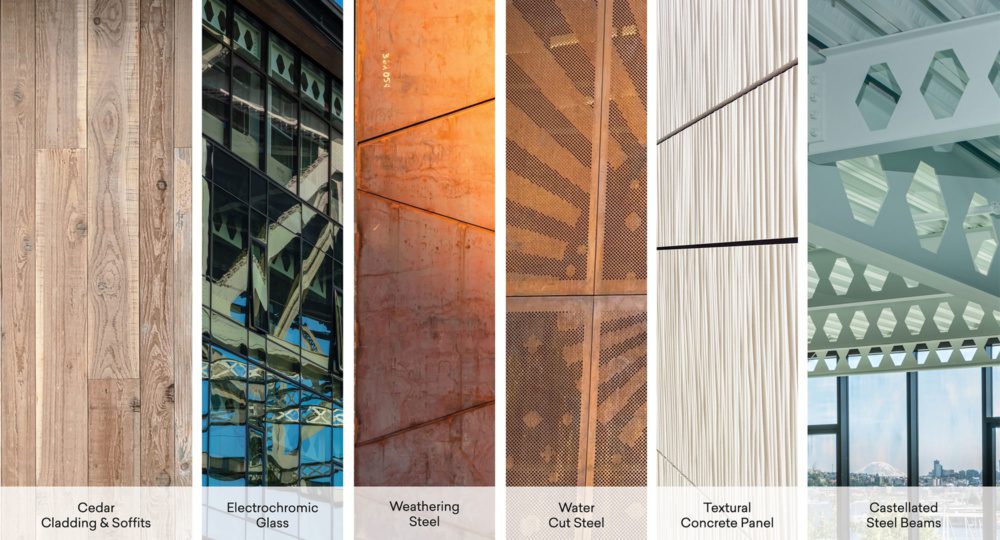 Design for Resources
Informed material selection, balancing priorities to achieve durable, safe, and healthy projects with an equitable, sustainable supply.
All 1,300 installed materials in the core and shell building and tenant improvements were vetted to avoid toxic chemicals, encourage manufacturer transparency, reduce embodied carbon, and support the regional economy through local sourcing.
Design for Change
Adaptability, resilience, and reuse are essential to good design, which seeks to enhance usability, functionality, and value over time.
Watershed's urban apiary includes four beehives on the roof that connect to an extensive neighborhood "pollinator pathway" and supply building tenants with honey.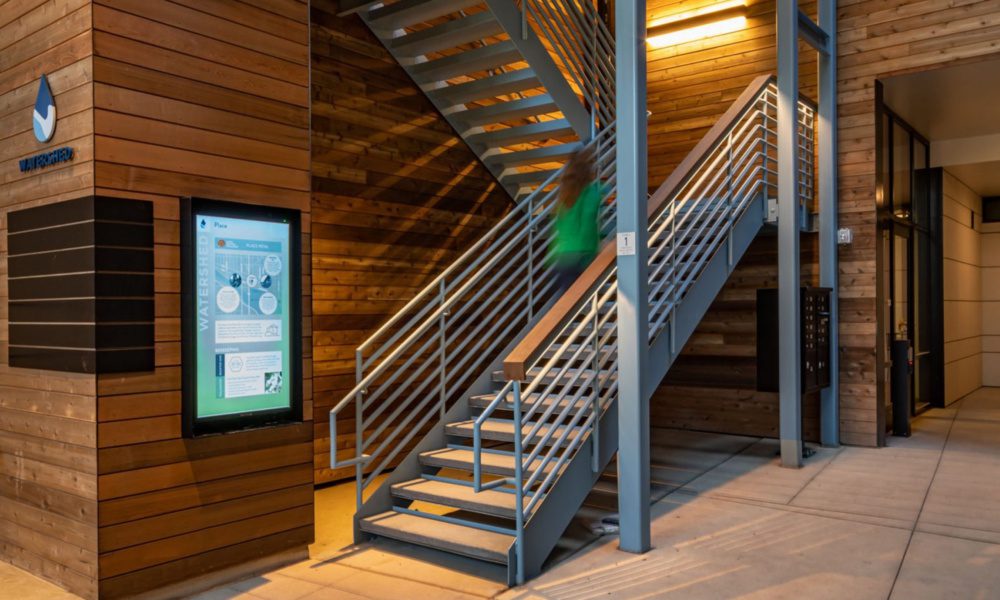 Design for Discovery
Opportunities to apply lessons learned from previous projects and gather information to refine the design and construction process.
The digital dashboard in the lobby displays real-time building energy and water metrics to visitors and explains the exemplary performance features of Watershed.
Thank you to our project partners:
HessCallahanGrey Group with Spear Street Capital
Turner Construction
KPFF
DCI Engineers
WSP
Allana Buick & Bers, Inc.
Heffron Transportation
Applied Building Information, LLC
Skanska