The Waverly
An elegant and sophisticated 28-story residential tower, The Waverly adds to the many stylistic offerings of a very rapidly evolving, maturing and diverse neighborhood. Located at 210 8th Ave N in South Lake Union, the project was completed in Q3 of 2022.
The Waverly
An elegant and sophisticated 28-story residential tower, The Waverly adds to the many stylistic offerings of a very rapidly evolving, maturing and diverse neighborhood.
PROJECT Overview
28-Story Tower
424,128 GSF
321,844 SF Residential
374 Residential Units
288 Parking Stalls
Certifications
LEED Gold Certified
Services
Weber Thompson is the Architect of The Waverly tower, and the Landscape Architect for the tower's exterior podium and roof landscape designs. Olson Kundig is the design lead for the adjacent Unity Church, and Landscape Architect for the ground plane.
The Waverly Architecture
With 374 upscale units, the apartments cater to the housing needs of the rapidly growing South Lake Union community while providing a wide range of product types and configurations that appeal to core urban dwellers and also to those looking for a pied-à-terre.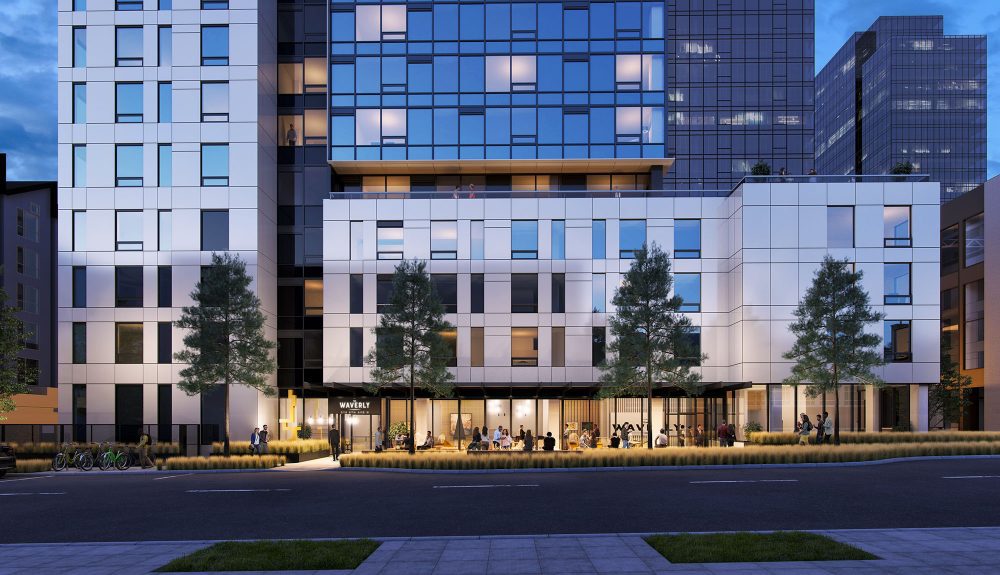 Street-level transparency
In the spirit of community established by the partnership with Seattle Unity Church, the street-level is designed with an innovative and significant "front porch" and "community living room" to welcome residents and provide activity on this residential-scale street. The upper level resident amenities also include an outdoor sport court, fitness room and yoga studio, as well as a penthouse lounge, entertaining and terrace areas with expansive view of Puget Sound, Seattle Center, downtown, Lake Union, and the surrounding mountain ranges.
New church, new community
Seattle Unity Church, a long-time resident in South Lake Union, was intent on staying in the neighborhood but their existing home needed major improvements. To develop their project and achieve their dreams, they selected solicited proposals from ten different teams. Ultimately Greystar and Weber Thompson were selected as the front runner, thanks to their previous award-winning collaborations and deep local knowledge.
The Waverly Landscape Architecture
The rooftop outdoor spaces at The Waverly are designed to celebrate the very best that an urban lifestyle can offer.
Global gardens
Inspired by the Luxembourg Gardens in Paris, the upper roof nimbly accommodates both swanky rooftop parties and day-to-day lounging. Moveable seating can be easily rearranged to provide maximum flexibility of use. The result is a cosmopolitan park-like experience geared for global travelers and those who appreciate the ability to seek out a shady spot on a hot day, as well as entertainers creating a singular experience for their neighbors and guests.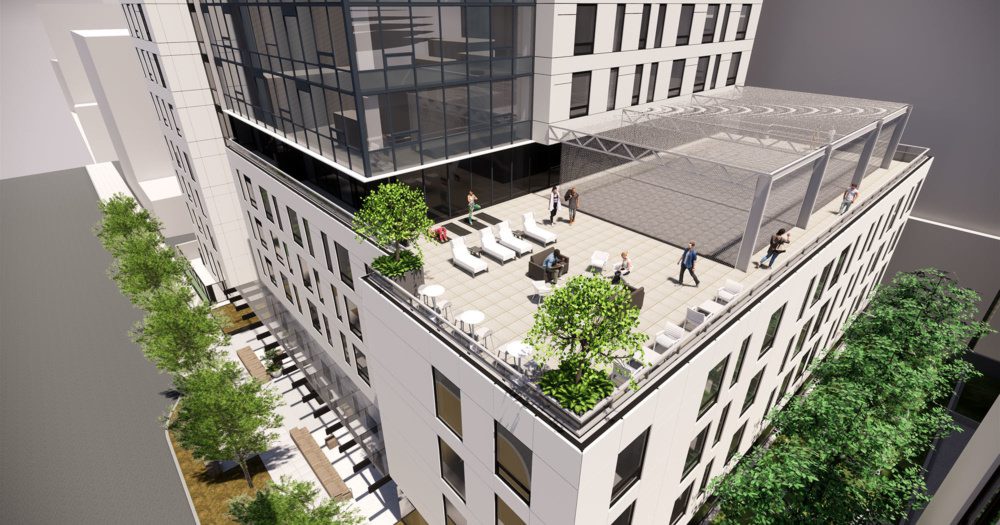 Focus on fun & flexibility
Wherever possible, the building embraces a sophisticated design aesthetic. This has as much to do with the location and proximity to neighborhood galleries and amenities as it does with design choices. The rooftop is one such example. Residents experience views of Seattle's oldest park canopy, the adjacent and recently restored Denny Park. This lush green view further enhances the spectacular rooftop experience.
Sustainability
The Waverly meets the Seattle Green Building Standard requirements, including 20% greater energy efficiency on top of Seattle's already stringent energy code. LEED Gold Certification was achieved by the ideal location, with a walk score of 98, and grocery stores, healthcare and other essential amenities within easy reach. Additionally, a large portion of construction waste has been diverted from landfills, and many construction materials have been sourced locally.
CONSTRUCTION CAM COURTESY TURNER CONSTRUCTION