By Scott Thompson
Scott Thompson passed away December 12th, 2017 after a long fight with cancer. We remember him as a great mentor and good friend, who cared deeply about the people at Weber Thompson, and made sure that everyone who worked for him had their contributions and worth acknowledged and celebrated before his own. He is missed.
A Founding Principal at Weber Thompson, Scott Thompson retired at the end of 2015 with over 35 years of architectural and planning experience, specializing in high-density, urban infill and mixed-use buildings. He also worked on commercial structures, planned-unit developments, high-end condominiums, multifamily housing, hospitality projects, health clubs and custom single-family residences during his career.
News
Thoughts
It was a year ago this week that construction of the Terry Avenue Office Building began. We are excited that construction is in the home stretch, and we're counting down the days until we move into our new headquarters. The firm will be taking occupancy April 4th. To share what we've learned, and to encourage green design dialogue, we are launching this blog.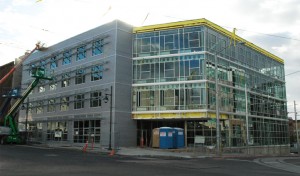 It has been three years since we started discussing the idea of developing a new home for Weber + Thompson. We were fortunate enough to find a prime piece of land in the South Lake Union neighborhood (the northeast corner of Thomas Street and Terry Avenue North), a developer (First Western Development) open to the idea of green design, and a savvy contractor (RAFN Company) willing to work with us on this pioneering project in a time of escalating construction costs.
As the building has taken shape, the hours of design study, consultant input and contractor/architect communication has paid off. The natural light throughout the interior spaces, the scale of the courtyard, and the building's transparency has exceeded our expectations.  All these factors are more impressive when you take into account that we are still in the winter months!
As the "sunglasses" get attached to exterior, the louvers get hung and the TIs wrap up, we are anxious to see how this building will perform. The extensive thermal modeling tells us that – without air conditioning – indoor temperatures may exceed 80 degrees 18-21 hours a year. Will the 36-foot-deep floor plates, operable windows and the courtyard promote adequate cross ventilation? Will we meet our goal of a 30 percent reduction in energy consumption? It will be a couple of years before we can answer some of these questions.
This is a building where we will have control of our environment and will be actively involved in its performance. We look forward to the challenge.
We will post weekly updates on the progress and performance of the building.