By Jeff Reibman
For over 25 years, Jeff has been working in the Seattle area with a focus on residential design. He has a particular interest in working with senior and affordable housing developers and organizations to help them maximize their financial capabilities and turn them into safe, healthy affordable homes.
News
Thoughts
On August 12th Weber Thompson hosted Seattle Greendrinks at The Terry Thomas. Rafn Construction, which built The Terry Thomas, joined us to co-host the event.
It was a perfect time for us to host as this month's theme was green building.  Throughout the event we conducted tours of The Terry Thomas – which helped fulfill Seattle Greendrinks founder Gabriel Scheer's goal to add an educational component to event.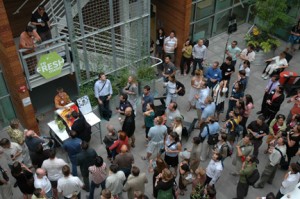 The tours were a definite hit and having such a dedicated and green-savvy crowd made them that much more interesting.  There were lots of good, and sometime very in-depth, questions  about how the building's systems all work together.
In keeping with the green building theme, Environmental Works was the featured non-profit for the night.  Normally, all the donations at the bar would go to them, but they chose to turn around and donate that money to a non-profit located right here in South Lake Union: The Cascade People's Center. Thanks to all of our guests, we raised $522.
Overall, the event was a huge success with more than 400 people showing up.  The courtyard was packed as was the exterior stairs – a great vantage point that people naturally gravitate to.
The lounge on the third floor and reception and conference room area on the second floor really drew people in and provided enough room to hang out comfortably.
On the first floor, we threw open the big sliding glass doors to the courtyard.  Doing this allows the office area to function as edge space, where people can retreat from the packed courtyard but still feel connected. This also provides an audible connection that makes every space feel like it's still part of the party.
The best part of the event was meeting so many young people who are so enthusiastic and committed to aspects of sustainable business and living. It's inspiring to learn about all the areas where people are making a difference.
During the event I spoke with at least four people whose companies were in the start-up phase.
We talked about how great it was to work in an office space that is both comfortable and beautiful.
That's really the biggest point of this sort of broad community outreach. Somewhere, sometime, some of these folks are going to be involved in finding or building office space. When that time comes, I hope they remember how much they liked this building and demand good light and fresh air, along with good energy performance, for their space.
Big thanks to Sierra Nevada for providing the beer, Portage Bay Café for the food and Benjamin Doerr for the great live music. I had a great time and heard nothing but good things about the event and the building.