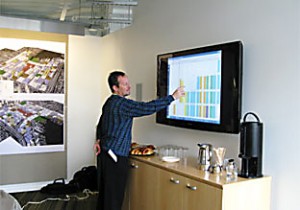 For nearly two decades we have been a resident of South Lake Union, first in the Cascade neighborhood, then moving to our new digs here at The Terry Thomas in 2008. During that period, the City of Seattle has written and rewritten multiple planning documents for this area including a neighborhood plan, design guidelines, open space strategy, and transportation strategy. They have also held a joint design charette with the uptown neighborhood. Throw in a fairly comprehensive sustainability plan produced by Vulcan and the LEED for Neighborhood Development certification process we worked with the city on and all the bases are covered…right?
Right, except for the fact that most of these documents made broad, generalized recommendations that gave guidance but had little or no teeth when it came to implementation.
Recognizing this problem, we have been working with the City of Seattle since April to use the past efforts as a foundation to develop an Urban Design Framework (UDF) for South Lake Union. While the UDF will stop short of being a comprehensive master plan it will establish a shared urban design vision and, most importantly, an implementation strategy in the form of Incentive Zoning, Development Standards, updated Design Guidelines, EIS Mitigation for zoning designation and height/density increases, Right of Way Design and Management, and how we use or reuse public property in the neighborhood.
The project team (Weber Thompson and the City of Seattle) has been working closely with a working group comprised of a range of community stakeholders since April. Given the extensive public planning to date, the team has developed proposals through a series of charrettes and vetted proposals with the working group. An initial charrette was held in May to look holistically at the neighborhood, review past plans and new opportunities and develop a list of six potential "opportunities" for further study. The proposed opportunity charrettes have been structured in such a way to build upon each other and achieve the project goals by identifying and studying opportunities and challenges at different scales as well as implementation strategies.