Beneath a cool professional exterior, a storm is brewing amongst the workstations at Weber Thompson. Friends glare menacingly at each other as they pass in the hallway. Internal communications are littered with threats and attempted intimidation. Jeff Bates is sporting a bandana. The air is brimming with potential conflict and all for one simple reason: May is Cascade Bicycle Club's Bike to Work Month Challenge.
Throughout the month mild-mannered designers, so tame under the daylight-calibrated lights of the conference rooms, are coming out of their shells to reveal their true identities: members of one of WT's three vicious bicycle gangs. The staff representing Weber Thompson in Seattle's Bike to Work Month have been divvied up to balance commute lengths, giving each team an equal chance at attaining a variety of awards, including Consistency, Overall Miles, Team Spirit, Most Days Traveled in the Rain, and several others.
The competition is tight, and enthusiasm has pushed camaraderie-oriented teams to transform to rough-and-tumble bike gangs. As of May 15th, the mid-point for the contest, the team rankings are as follows: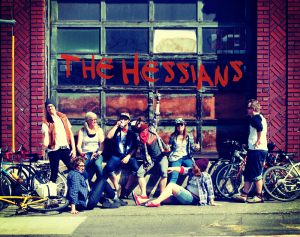 The Hessians: 75% commute rate with 555.34 miles traveled
Team Members: Manuela Hess, Kristen Scott, Josh McDonald, Sami Houari, Marc Furst, Emily Doe, Lauren Blass, Aaron Swain

Velocidrafters: 74% commute rate with 572.62 miles traveled
Team Members: Jeff Reibman, Austin Besse, Brittney May, Maggie Cowgill, Michael Day, Nicole Winn, Myer Harrell

Blood, Spokes and Gearz: 55.7% commute rate with 410.5 miles traveled
Team Members: Scott Wells, Jon Szczesniak, Cody Lodi, Jeff Bates, Amanda Keating, Jeff Dobbs, Erin Schiedler, Monica Knapp
Riding is only part of the battle. No deed is too low to win out for that Team Spirit award, and so far staff members have gone as far as tattooing themselves to display their team pride. We'll be checking back in at the end of the month to congratulate the winners in all categories and celebrate the return to peace in the hallways of Weber Thompson.
– Lauren Blass