Latona at North Lake Union
At the foot of the Latona neighborhood, a new mass timber commercial office and lab-ready building is taking shape. While paying homage to the Dunn family's historic connection to the site, this innovative project will bring new energy to the area with an improved park space along the Burke Gilman bike trail and an expansive public plaza looking out over Lake Union.
Project Overview
5 Story Mass Timber Building
63,018 SF Site
275,000 GSF
158,000 SF Office/Lab
27,000 SF Warehouse
9,500 SF Retail
64,500 SF Outdoor Space
165 Parking Stalls
200 Bicycle Stalls
Certifications
Pursuing LEED CS Gold and Fitwel Certification
Completion Date
Q3 2023 Projected
Contacts
Kristen Scott
Principal in Charge
Rachael Meyer
Landscape Architecture Principal
Services
Weber Thompson provided architecture, landscape architecture, core and shell interior design, and graphic design services for this innovative project in Seattle, WA.
IMAGES: Weber Thompson; panoramic views: Motiv
Latona at North Lake Union architecture
The design of Latona at North Lake Union draws inspiration from the experience of being deep within the woods of the Pacific Northwest. Here, one finds the distinct layers of a forest – the forest floor, the understory and the canopy – conceptually represented through built form.
Health and wellness
With more than 60,000SF of outdoor terrace and deck space, Latona at North Lake Union recognizes the human desire for a connection to nature. The biophilic design concept of being in a forest is expressed at every scale of design from massing to details. The windows and outdoor spaces orient views toward Lake Union and downtown, and operable windows throughout provide ample fresh air and thermal control to the building occupants.
Lab-ready office expressed in mass timber
The building embodies the character of a high performance lab-ready office building, while celebrating the timber history of the original Dunn family business located on this street from 1931 to today. The primary structural system is cross-laminated timber (CLT), glu-laminated columns and girders. Steel Buckling-Restrained Braced Frames are a key component of the lateral system, and are expressed in contrast to the timber structure.
Embracing design technology
The use of 3D printers and crafted virtual reality experiences has allowed the team to quickly explore design options and evaluate how they best fulfill the project goals. To be able to view the printed models as an external perspective while being able to transport inside for internal VR experiences creates a holistic image of what the architecture is to become.
Latona at North Lake Union landscape architecture
This ambitious full-block project will include major pedestrian and bike trail connections, sweeping views of Lake Union and downtown Seattle, stormwater treatment and a central public plaza.
Plaza for the people
When it's complete, Latona at North Lake Union's public plaza will be a one-of-a-kind open space at the north end of Lake Union. The team has forged a new type of partnership with the Seattle Parks Department in order to create a unique amenity. An exaggerated setback between the property and the adjacent Burke Gilman Trail will include tiered seating and access to retail and café spaces. Historically, private development has not been allowed on public lands, but thanks to this new partnership, the design team can go beyond the boundaries of the site to simultaneously give back to the community and enhance the project's overall impact.
A cyclist's dream
A bike tire air station and water station are provided in the plaza; cyclists will appreciate the easy on/off connections to the award-winning Burke Gilman Trail. This former rail line is now one of the region's most popular biking trails, with thousands of daily commuters and leisure cyclists using it. A pathway branches off the trail and leads directly into the building's entry lobby, where the building's amenities further support a bike-friendly lifestyle.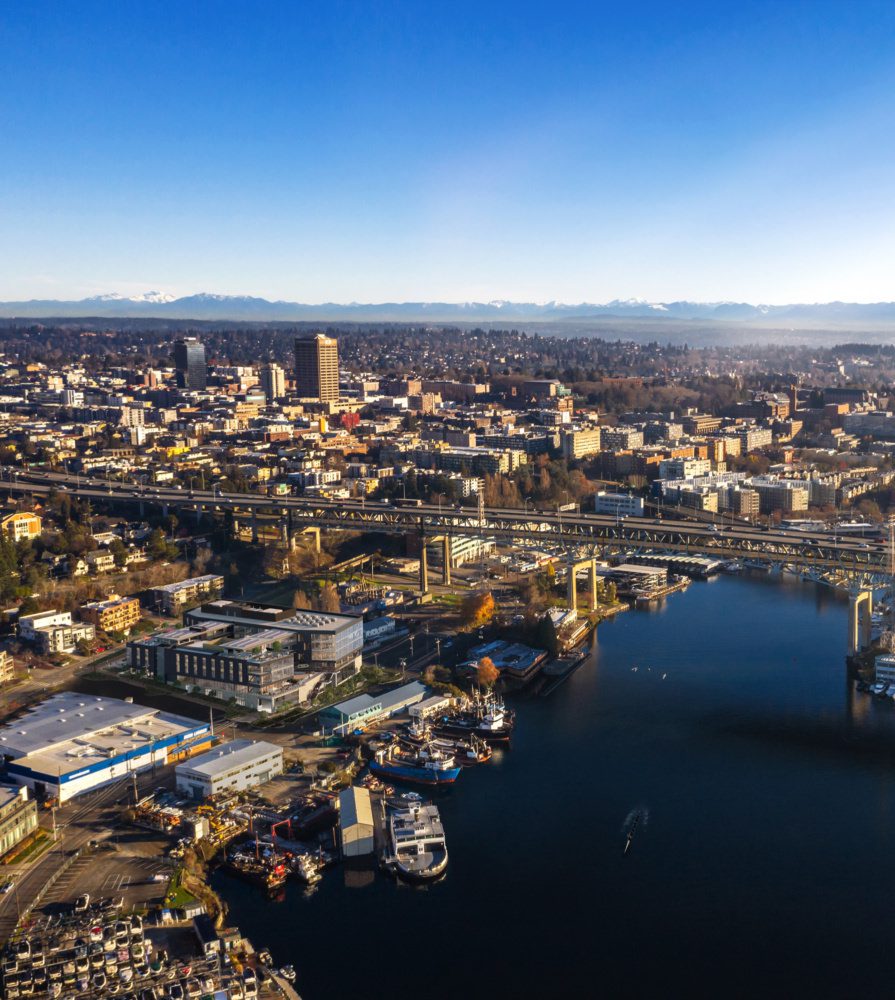 Protecting our shoreline
The building is set back from the southern site edge so our precious shoreline can be preserved and improved with green stormwater infrastructure. An impressive five million gallon regional stormwater treatment facility has been proposed for this area of the site, which will effectively clean all of the runoff from the lower Wallingford neighborhood. This effort will be one more step towards cleaning our region's waterways that are critical for the salmon and marine life that call them home.
Sustainability
Latona at North Lake Union is pursuing LEED Core & Shell v4.0 Gold, and Fitwel certification. Health and wellness of the building occupants will be paramount, especially through strategies of fresh air, daylight, and connection to the outdoors. The mass timber structural system will have a lighter footprint than other structural alternatives; a Life Cycle Assessment of the embodied carbon in the timber will be calculated to understand the impact compared to more conventional construction types. The building will feature an efficient envelope and mechanical system and efficient plumbing and irrigation.
Latona at North Lake Union in the news