Like many other firms, Weber Thompson's physical office is closed and our staff are sheltering at home, working at their home offices. We're setting up Zoom calls with clients and using Slack to communicate freely with one other about our project work. We're setting up weekly virtual happy hours to stay connected and to laugh a little. We are fully operational, although adjusting to this new temporary reality. We also recognize that we are incredibly lucky to have the ability to work remotely with a little adjustment, other than learning the ins and outs of virtual communication and juggling family and home life demands.
At the same time, our hearts and thoughts also go to those on the frontlines of this crisis. To help out in an immediate way, we've turned our 3D printer into a face shield production machine. We've connected with Seattle Makers, the local organization that helped us create our Artifact mini-games in 2018 and are contributing to an effort in Seattle to 3D print at least 5,000 protective face shields. If you have a 3D printer at your home or office, we encourage you to join this effort by contacting Seattle Makers to find out how you can get involved.
---
"3-D printing allows people to share models digitally all over the world and literally "print" them 3-dimensionally in their offices or even at home! People can rapidly produce these iterations at a relatively low cost. One of the challenges in producing medical equipment is that there are a number of different types and versions of PPE [personal protection equipment] masks, filters and other equipment. A local group of [Boeing] engineers, members of UW medicine, and local hospital representatives quickly worked together to find a design that suits our local needs and that is approved for medical use here in the PNW.
This effort is an excellent example of the collaborative power of 3D printing, and a testament to humankind's ability to innovate on the fly and come together in a time of need."
– WT Associate, David Burpee
David Burpee is leading the effort to produce these essential Personal Protection Equipment components.
---
FAQ
[expand title="Q: Where can others go for more information about the effort?"]
A: More information can be found on the Seattle Makers website, or by visiting the PRUSA website – they are a large 3d printer manufacturer that has provided open-source plans online. They have community forums and a Slack channel set up for makers and professionals to access information about printing, materials and collection points. The slack channel also has an indemnity letter (in the pinned messages) to protect against liability.
Resources & Links:
Prusa USA Slack Channel
Prusa website
Seattle Makers 
[/expand]
[expand title="Q: What material are you using to make the face shields?"]
A: The plastic we are using is PLA, however, ABS and PETG are also accepted. The printed portion is opaque and not able to be seen through, with the idea being that clear transparent plastic is used for the actual shield. Some folks are sourcing this and assembling themselves, while others are working with others for sourcing the clear plastic sheet. Please see Prusa website below for more info on the design. Also note that there are many mask designs currently, and your local hospitals may have a preference or an approved design for use. The version we are printing has been approved by Seattle area hospitals and will likely work for many other applications, however it is not the fastest to print versus some of the other designs.
[/expand]
[expand title="Q:  What will these face shields be used for and who will get them?"]
A: To our knowledge, the shields will be distributed to local hospitals, essential businesses and facilities, the homeless, and others on the front lines. They are being provided for free or by donation to individuals who need them but can't currently access them. We are delivering our printed shield holder/frames to Seattle Makers. They will attach the clear film and distribute the shields and coordinate the delivery of the goods.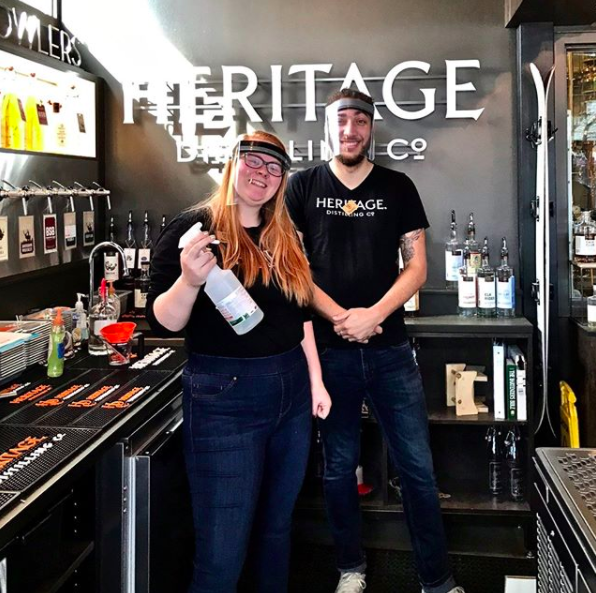 [/expand]
[expand title="Q: How are you distributing the face shields?"]
A: We are donating our face shield frames to a local small business called Seattle Makers that is helping with collection, distribution and assembly in our area. The Prusa USA Slack channel can help you find local groups in your area that are helping with distribution. Overall, the distribution of PPE products has been somewhat organic. Some people are choosing to deliver specifically to a certain hospital. You may need to reach out to find places that are willing to accept the masks and see if they have any special requirements.
[/expand]
[expand title="Q: How are you preparing the face shield frames for delivery?"]
A: We are bagging them in a plastic bag in bundles, and then boxing them up and marking very clearly with the following information:
Date of last human contact: (Most places that accept masks will "quarantine" them for 48 hours or so to ensure any possible contamination / virus is no longer living on surface.)
Number of masks
Material: (PLA / ABS / PETG / other)[/expand]
[expand title="Q: How many do you expect to print over what period of time?"]
A: We are hoping to print 100 face shield bands to start, or more depending on our capacity of raw materials, the speed at which we can produce them, and need. The holder is the rigid plastic piece that the clear face shield attaches to in order to protect the wearer. The 3D printed piece takes about two to three hours to print. We expect to print 100 in about two weeks, but will drop off batches to Seattle Makers. Seattle Makers has set a goal to help produce or collect a total of 5,000 shields in Seattle.
[/expand]
Stay safe, stay healthy, and we can beat this thing, together!