DATA 1 is a high-performance core and shell office building with a concept based around energy efficiency, sustainability, productivity and community. In honor of Earth Month, we're highlighting three of the project's most innovative sustainable features.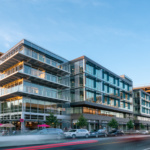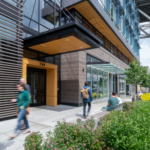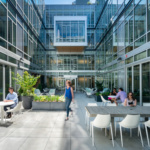 1. Massing that supports high-performance design
A number of massing strategies contribute to improved energy performance, including a central courtyard, an interior and exterior feature stair, and tuned facades with punched openings toward the north and full glass with horizontal and vertical shades toward the south. The courtyard provides private work and gathering space for the technology office tenant, Tableau, while providing significant daylight autonomy to the office work areas on floors above.
2. Landscape design that cleans polluted water
The Aurora Bridge, adjacent to the project, and with drainage to a major salmon spawning route, was tested and found to be more toxic than any other highway bridges in Washington and California. The solution to the toxic runoff was a unique system of planted, stepped bioretention cells below the bridge that treat the water before returning it to the storm sewer. Further onsite stormwater mitigation is provided in bioswales along the sidewalk at the main building frontage, and in green roof on top of the building.
3. External shades that reduce heat gain while providing visual appeal
On the south façade, the horizontal metal shades reduce heat gain in the summer months, while translucent blue glass vertical shade fins help with morning and afternoon glare. An interior feature stair with open maple treads, large landings, and lighting encourages occupants away from the elevator – reducing electricity use and burning calories – while increasing chance encounters and conversations.
project stats
Five story commercial office building in heart of Fremont neighborhood of Seattle
11,850 square feet of retail
113,000 square feet of commercial office
Bike locker provides storage for 250 bicycles onsite
Two levels of below grade parking with 165 stalls
Incorporates art and historic elements, including a piece of the Berlin wall
LEED Gold Certified
Salmon-Safe Certified
Location
recent news
LEED Gold DATA 1 building puts people first
USGBC ranks Washington state 3rd for amount of LEED-certified space
14 winners in WASLA 2018 awards program
Rain garden to filter stormwater runoff from Aurora Bridge
Two New Seattle Structures to Include Stormwater Treatment Plans