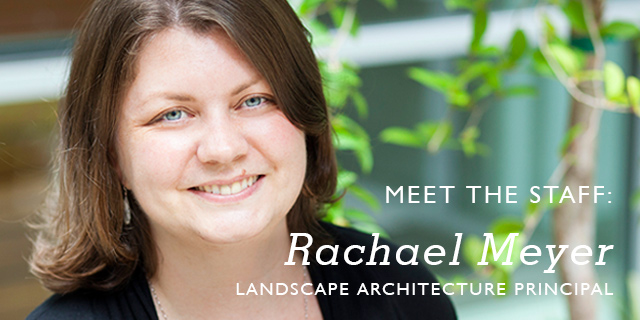 Rachael Meyer is Weber Thompson's new Landscape Architecture Principal. She joined the firm with 13 years of experience creating lush landscapes for residential projects, parks, and public open spaces. Get to know more about Rachael in the Q & A below.
What is your Name & Title/Role 
Rachael Hope Watland Meyer, Weber Thompson's new Principal of Landscape Architecture
You just joined Weber Thompson as our new Landscape Architecture Principal. What brought you here? 
Weber Thompson is such a great group of collaborative people and awesome projects! As the Landscape Architect on most of the projects in the office I get to work with pretty much everyone and every project. It is such a great opportunity for me!
What about this new role excites you the most? 
I'm excited by the office's focus on sustainability and pushing each project to do more to improve our environment. It needs to be a driver in everything we do, especially with our urban landscapes.
What has been your favorite project? 
The Bullitt Center and McGilvra Place Park, the first commercial living building and first living park, respectively, have been most influential on how I approach landscape design and team collaboration. These projects were cutting edge in their ultimate design, but also in the process to get there.
Why Landscape Architecture?  Continue reading "Meet the Staff: Rachael Meyer"