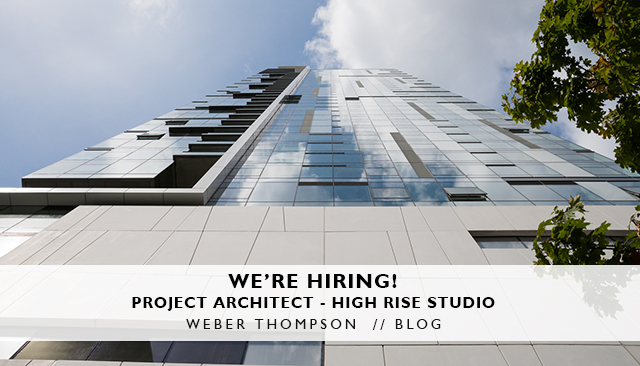 If you have 8-10 years of residential experience in high-rise (preferred) or mid-rise mixed-use projects and can work well in a collaborative atmosphere we want you to join our firm!
We are looking for a detail oriented PA who can execute technical solutions and works collaboratively to enhance the conceptual design. Ideally, you are comfortable reading and interpreting code, have experience with exterior envelopes, coordinating structural and MEP systems, and are knowledgeable about Accessibility. Residential unit planning experience is a plus. You must be creative and service-oriented, have excellent team communication abilities, be obsessed about details and quality control and have superstar Revit skills. A strong organizational mindset and a sense of humor are also essential. A Bachelor's degree in Architecture is required. LEED AP Accreditation is a plus.
If you meet the requirements listed above, please send your cover letter (important!) and resume to jobs@weberthompson.com. If you don't meet the requirements, please do not reply and check back for additional openings in the coming months.