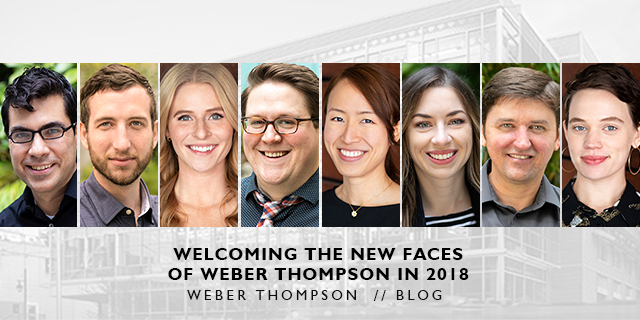 We are thrilled to have welcomed Sam C., Ken, Emily, Randy, Sam F., Brittany, Gloria and Eva to the Weber Thompson team in 2018. Each one of them brings their own unique skillset and passion ranging from landscape design, BIM, Passive House, and high-rise design. Learn more about our new team members!
Ken Gifford, ASLA

A self-proclaimed "Lego Kid,' Ken is in the business of solving problems. He originally pursued an education in construction management but quickly became intrigued by the graphic nature of the design process.
Learn More about Ken

After receiving a bachelor degree in Landscape Architecture from the State University of New York's College of Environmental Science and Forestry, Ken went on to work for a number of Landscape Architecture firms in both New York and California. Ken's formative experiences before joining Weber Thompson were in private residential work, particularly design-build. These immersive projects allowed him to sink his teeth into all phases of design – from early design and client interaction to securing permits and administering construction.

Ken is originally from New York, but he moved to Seattle to be closer to his family. He adores the Pacific Northwest's mild climate and proximity to mountains; he loves both running and skiing. In addition to living an active lifestyle, Ken loves making things. His most notable projects include an 80-foot diameter labyrinth with bluestone from his cousin's quarry and a wood framed barn on a farm in the Thousand Islands.
---
Randy Miller, AIA, LEED® BD+C

Randy knew from a young age that a career in architecture was in his future. Early on, he found inspiration tinkering in his dad's workshop, but it was an industrial technology class in junior high that sealed his passion for designing in three dimensions.

Learn More about Randy

He earned his Bachelor of Architecture from Iowa State University in 2008.  In 2010, his passion for the carpentry took him to Seattle Central, where he studied marine carpentry. This hands-on education taught him about lofting (the process of creating full-scale drawings of boat hulls), steam bending and fabricating wood and fiberglass products. An intimate familiarity with the material properties of wood and an appreciation for trades has served as his foundation for architecture and construction.

At WT, Randy is member of the firm's internal Sustainabiliteam, the BIM user group, and was a part of the 2018 Seattle Design Festival exhibit 'Artifact Challenge.' Additionally, he regularly participates in the Dynamo user group and Automated Technology for Construction meet-ups, and tracks emerging technologies related to virtual reality and digital modeling tools.

Randy's diverse interests outside the office range from improv to woodworking. He can be found eliciting laughs from onstage with the Jet City Improv crew, or working in a woodshop creating furniture and theater sets. He hopes to someday have his own line of furniture on display in a gallery, and regularly indulges in workshops and classes to continue to hone his artistic skills.
---
Emily Evenson, RA, CHPD

Emily believes housing is a basic human right. As an architect, her passion for affordable housing was born from her experience growing up in a family that sometimes struggled to find stable, safe and affordable housing.  This perspective has drawn her to clients and projects that pursue affordable and equitable housing whenever possible.

Learn More about Emily

Her main body of work over the last 9 years has been in mid-rise, multifamily housing in the Seattle area, many of which fall under the affordable housing umbrella.

Emily enjoys all aspects of design:  from exploring dynamic massing strategies, to simple and elegant design expressions, and executing designs with well-developed details.  With a "let's halt climate change" attitude, she has a passion for high performance buildings and attained her Certified Passive House Design credential in 2017. Passive House principles "provide people with homes that have very low energy costs overall, have better acoustic performance, enhanced thermal comfort, and cleaner, healthier air to breath at all times." Her goal is to help colleagues and developers deliver beautiful, socially responsible, and sustainable projects to the region.

A self-proclaimed "Type 2 fun" (activities that are miserable at the time but fun after the fact) enthusiast, she spends weekends enjoying outdoor activities like biking, climbing, running, and aggressive hikes.  In her down time between outside activities and work, you can catch her eating or planning her next meal.
---
Sam Fleischmann, AIA, LEED AP

Sam has always enjoyed building things and some of his earliest memories are of working and tinkering in his grandfather's woodshop. When he was young, he and his brother attempted to build an airplane out of 2×4's – needless to say, it didn't fly, but it was a formative experience in taking risks and being willing to tackle big ideas head-on. His interest in architecture first reared its head when he began traveling outside his home state of Missouri where he says, "it's very bland."

Learn More about Sam F.

Sam originally studied pre-med and engineering in school. One semester, while looking for an 'easy A' to add to his class schedule, he discovered Arch. 101. His professor was so passionate that his love for architecture was rekindled and he switched his major without hesitation. After receiving a Bachelor of Arts in Geography from the University of Texas, Sam pursued his Master of Architecture from the Pratt Institute in New York.

At Weber Thompson, Sam works in the High Rise Design Studio as a Project Coordinator. He's currently contributing to a high rise in the Denny Triangle neighborhood, and works collaboratively with the team to tackle issues well before they arise. Additionally, he's a valued team member for his attention to detail and direct communication style.

When not at work Sam can be found cooking, mountain biking, sailing, woodworking, furniture building, or spending time with his wife and three children at their home on Bainbridge Island.
---
Sam Castro is a BIM Specialist and Architectural Designer excited to rejoin the Weber Thompson team after ten years away. He is engaged in facilitating the evolution from digital drafting boards to BIM (Building Information Modeling) and the collaborative ecosystem that allows for.

Learn More about Sam C.

A minimalist at heart, inspired by compositions that make design look easy, Sam is excited that his current role offers a "unique window into all projects Weber Thompson is working on". But what makes his work feel meaningful is "daily problem solving, and being a conduit between teams to improve our workflows, share resources and learn together." Every problem is an opportunity to exercise creativity and pursue beauty.

A tried and true Northwest local, he loves to spend Saturday mornings amongst the fruit trees, timber bamboo, and berries planted in his backyard, gardening with his two young daughters. "I'm surrounded by creatives at work and at home, and am grateful for that" he says. "I stay pretty busy, but I rarely say no to getting together for a cup of coffee."
---
Brittany came to the Northwest eager to participate in Seattle's booming urban-infill development and progressive building culture. With experience in energy-efficient, mid-rise, multifamily housing projects, she is excited to be a recent addition to the Weber Thompson team.

Learn More about Brittany

Her early years were spent living abroad, and the exposure to European history and buildings is where her love for architecture began. Once landing back in the US she studied architecture with an emphasis in sustainable design in both Georgia and in Oregon. The duality in geography, culture, and education between her two degrees created a fusion of sustainability-through-technology and sustainability-through-conservation ethos that has remained the backbone of her work ever since. Drawn to the field for its ability to affect local and global environments, her goal is to "create beautiful, healthy places for people while making the most efficient use of resources."

She is a frequent speaker on Passive House design principles and serves on the Board of Directors for Passive House Northwest. When not working, you can find Brittany spending her weekends skiing or on multi-day solo hiking treks with her rescue pup, Lana.
---
Gloria Mah's specialty is in residential high-rise architecture with a background in transit and urban design. She is a multifaceted designer who uses her passion for interdisciplinary thinking and collaboration to create well-researched solutions that have a positive impact for its users. Prior to joining Weber Thompson, Gloria worked on transit-oriented development in San Francisco and design competitions internationally.

Learn More about Gloria

Growing up in a Hong Kong high-rise and Los Angeles suburb, Gloria has now made her way to Seattle to take her practice to new heights. On the weekends you might find her road-tripping or traversing Seattle's art offerings or abundant parks. Her personal motto – "journey of a 1000 miles begins with one step" – is perfectly suited for this city-hopping urbanite.

Now residing in close proximity to Weber Thompson projects, Gloria is excited about how the experience of visiting sites and the surrounding culture will have a direct dialogue with her design work. As a Project Designer for Weber Thompson, she will be working on the 802 Pine and Unity Projects.
---
If you're a frequent visitor to our office, you'll immediately recognize Eva el-Gasseir as the friendly face that greets you at Weber Thompson's front desk.

Learn More about Eva

Born in Upstate New York, but a Seattleite since age ten, Eva's upbringing followed an unconventional path that's profoundly shaped her varied interests. As a child she was homeschooled early on, later attended an alternative school, and received her GED without attending high school. She holds a certificate in yoga instruction and a double major in Women & Gender Studies and Philosophy, and she regularly spends her spare time engaging in academic writing on philosophical topics.

At Weber Thompson, in addition to easily juggling the eclectic duties required of a receptionist, Eva has become a member of the firm's recently formed Equity, Diversity and Inclusion task force. The topic is of special interest to Eva not only because of her field of academic study, but also because she has an affinity for Human Resources and believes that EDI initiatives can become a force for positive change.

Currently, Eva is planning her next life adventure: She and her husband will welcome a baby into their family in March of 2019.