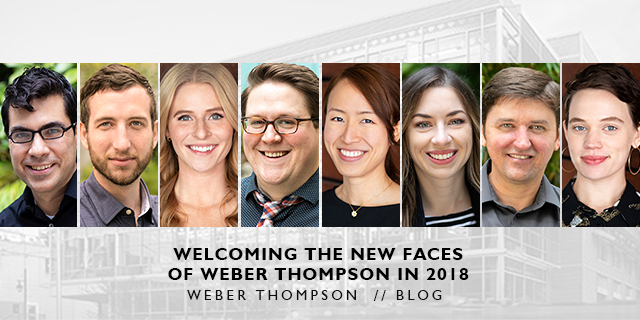 We are thrilled to have welcomed Sam C., Ken, Emily, Randy, Sam F., Brittany, Gloria and Eva to the Weber Thompson team in 2018. Each one of them brings their own unique skillset and passion ranging from landscape design, BIM, Passive House, and high-rise design. Learn more about our new team members!
Ken Gifford, ASLA

A self-proclaimed "Lego Kid,' Ken is in the business of solving problems. He originally pursued an education in construction management but quickly became intrigued by the graphic nature of the design process.
---
Randy Miller, AIA, LEED® BD+C

Randy knew from a young age that a career in architecture was in his future. Early on, he found inspiration tinkering in his dad's workshop, but it was an industrial technology class in junior high that sealed his passion for designing in three dimensions.
---
Emily Evenson, RA, CHPD

Emily believes housing is a basic human right. As an architect, her passion for affordable housing was born from her experience growing up in a family that sometimes struggled to find stable, safe and affordable housing.  This perspective has drawn her to clients and projects that pursue affordable and equitable housing whenever possible.
---
Sam Fleischmann, AIA, LEED AP

Sam has always enjoyed building things and some of his earliest memories are of working and tinkering in his grandfather's woodshop. When he was young, he and his brother attempted to build an airplane out of 2×4's – needless to say, it didn't fly, but it was a formative experience in taking risks and being willing to tackle big ideas head-on. His interest in architecture first reared its head when he began traveling outside his home state of Missouri where he says, "it's very bland."
---
Sam Castro is a BIM Specialist and Architectural Designer excited to rejoin the Weber Thompson team after ten years away. He is engaged in facilitating the evolution from digital drafting boards to BIM (Building Information Modeling) and the collaborative ecosystem that allows for.
---
Brittany came to the Northwest eager to participate in Seattle's booming urban-infill development and progressive building culture. With experience in energy-efficient, mid-rise, multifamily housing projects, she is excited to be a recent addition to the Weber Thompson team.
---
Gloria Mah's specialty is in residential high-rise architecture with a background in transit and urban design. She is a multifaceted designer who uses her passion for interdisciplinary thinking and collaboration to create well-researched solutions that have a positive impact for its users. Prior to joining Weber Thompson, Gloria worked on transit-oriented development in San Francisco and design competitions internationally.
---
If you're a frequent visitor to our office, you'll immediately recognize Eva el-Gasseir as the friendly face that greets you at Weber Thompson's front desk.