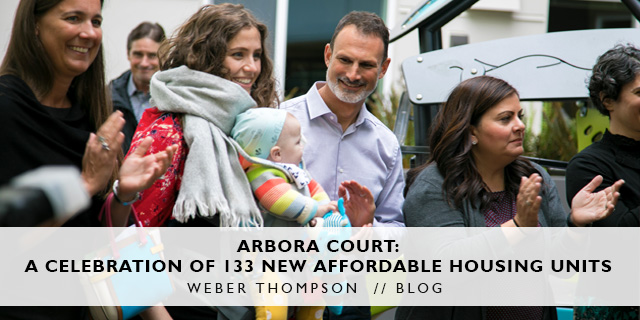 'Just feels like Christmas morning' is the best way to describe getting ready to head over the opening of Arbora Court last Monday, May 7th. I picked out a bright cheerful outfit for my 8-month old boy to wear to join me at the opening of my first built design in the City of Seattle. This project is four years in the making for Bellwether Housing, nearly 60 years for the University Christian Church (UCC) congregation, and far too long for the incoming residents. With the perpetual need for affordable homes as Seattle continues on the path of rapid growth, I am so proud to be a part of Arbora Court which is providing 133 homes, 40 of which are dedicated to families transitioning out of homelessness.
On a crisp spring day, community members, the project team, UCC parishioners, city officials, residents, and my family shared in celebrating this new home. We gathered in Arbora Court's courtyard, below the safeguarded multi-trunk maple springing new leaves – already fulfilling its legacy as the tree of life this home was named after. Bellwether residents shared their experiences of what home means to them as Bellwether CEO, Susan Boyd, and Bellwether Director of Real Estate Development, Richard Loo, remarked on what an enormous effort this project has been, and their tremendous joy of finally opening the doors to residents.
Tours marked by sparkling pinwheels shimmied up and down the halls of the building as the groups buzzed with questions and excitement. Colorful artwork produced by Urban ArtWorks artist Angelina Villalobos designed in conjunction with UCC parishioner and artist, Jennifer Towner, depicts the life of the building on the walls, echoing the legacy mural anchoring the main corner of Arbora Court.
The bright colors and spirited patterns painted on wood canvases from Urban ArtWorks enliven the hallways, while Towner's original art hangs just outside the entry to the community room: screened images of the houses that formerly stood on the lot overlaid with the whimsical branches of the abstracted tree of life. Daylight spills into the elevator lobbies at each level, which are perfectly aligned to the UCC brick and stained-glass tower across the street. These light-filled hallways create space for neighbors to mingle.
Building tours concluded on the upper level terrace, where groups soaked in the view. If it had been an even clearer day, the Olympics would have displayed their snow-capped peaks. By lowering this upper level corner to help maintain a pedestrian scale and sensitivity to the neighborhood, the building offers a beautiful vantage point of the city, something the residents are unlikely to take for granted.
What Comes Next?
As residents move in I am grateful – but the sinking feeling in the pit of my stomach remains. How will we build the many more homes needed here in Seattle? How will we ensure they are affordable for individuals and families, people with high incomes and people with low or no incomes? To be a thriving city, we need to address the needs of all the people who call Seattle home.
As Bellwether and many other organizations dream, plan, develop, and build to meet the demand for more housing, I want to be a part of this positive growth. By contributing good design that acknowledges the need for fair and equitable communities of opportunity, we can be part of the solution. I am proud that Weber Thompson has and continues to design healthy, urban communities. We have balanced our work creating market-rate multifamily communities with projects like Raven Terrace, Othello Square, and Tower Steps. Thanks to the newest addition, a high-rise, mixed-income 300-unit tower with Bellwether and Plymouth Housing on First Hill, our work to help meet our city's critical housing needs will continue.
Clearly, the work is far from over. Happily, thanks to Bellwether, the University Christian Church, and the many other team members involved, 133 individuals and families will soon call Arbora Court home.
View all the photos from the event
---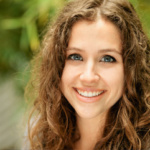 Kirsten Clemens, AIA, LEED AP BD+C is a Senior Associate and Designer in Weber Thompson's Affordable and Mid-Rise/Mixed-Use Design Studios. She has been at the firm for nearly six years. Recently, she and her husband Chris welcomed her first baby, Rouen, into the world. As a new mom, Kirsten's passion for family-oriented affordable communities has only gotten stronger.