Weber Thompson's Director of Sustainability, Myer Harrell, recently attended the AIA National Conference, where he presented as part of the panel "Living From Seattle's Living Building Pilot Program." The conference was filled with inspirational speakers and educational programs. Below, he captures some of the highlights.
At the first keynote of A'17 (the 2017 AIA Conference on Architecture), titled Anticipating the Need: Design that Cares, Pritzker Prize-winner Alejandro Aravena engaged the architect-filled audience by drawing diagrams on a white board to reinforce ideas as he spoke.
Graceful, honest, powerful and positive, Michelle Obama offered reflections on her time as First Lady and the family's adjustments afterward, her thoughts on healthy urban places and architects' role in creating them, and gender and racial equity in architecture and other industries. The audience hung onto her every word.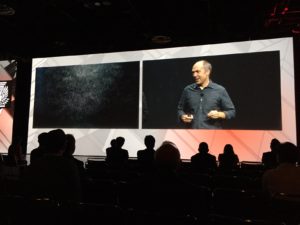 In the keynote on day two of the conference, Dan Goods from the NASA Jet Propulsion Laboratory demonstrated how to elicit awe in everyday things. We saw cosmic rays produce (otherwise invisible) streaks in droplets of fog in real time. So much more powerful than photographs or even a video would have been.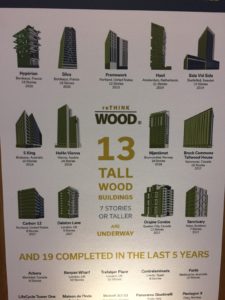 On the expo floor, I checked in at the Re:Think Wood pavilion for a state of the industry on mass timber projects under way around the world.
Between sessions I took a peek at the AIA Committee on the Environment Top Ten posters in the convention hall, to get inspired by completed projects that marry sustainability and building performance with aesthetically pleasing design.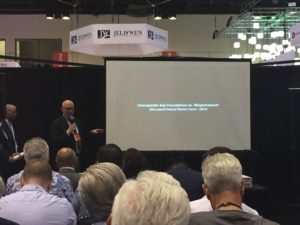 Some of the education sessions took place right on the expo hall floor. This one was Five legal Cases Every Architect Should Know, which reviewed some older familiar cases as well as newer cases I hadn't heard of. The cases touched on a range of issues from sustainable design to structural failure, with good takeaways for our practice and contract negotiation.
Jim Belushi and the Sacred Hearts rocked the house at The Party on Friday Night of the conference.
Amy Cuddy headlined the day three keynote, and illustrated the power of body language and its impact on how we see and present ourselves, and dug into why it works, citing evolutionary biology and animal physiology. An especially important skill for architects!
Our session "Living From Seattle's Living Building Pilot Program" had a small but committed audience for the last session of the conference. Thanks to Andy Lee with Architecture 2030 and Stacy Smedley from Skanska for putting together a great panel, and to Alicia Daniels Uhlig from ILFI for helping us prepare for the session in the months leading up to the big event.
No conference is complete without some down time after you finish your session. Happy Hour on Saturday at a Cuban place not far from the convention center.