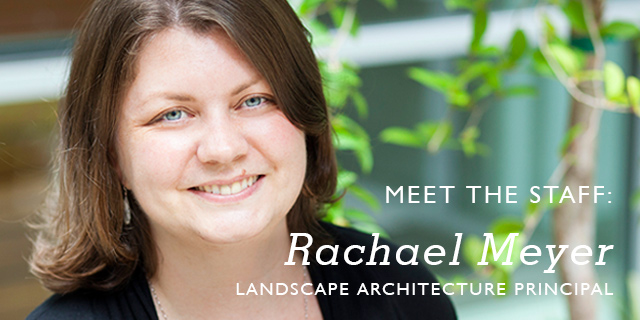 Rachael Meyer is Weber Thompson's new Landscape Architecture Principal. She joined the firm with 13 years of experience creating lush landscapes for residential projects, parks, and public open spaces. Get to know more about Rachael in the Q & A below.
What is your Name & Title/Role 
Rachael Hope Watland Meyer, Weber Thompson's new Principal of Landscape Architecture
You just joined Weber Thompson as our new Landscape Architecture Principal. What brought you here? 
Weber Thompson is such a great group of collaborative people and awesome projects! As the Landscape Architect on most of the projects in the office I get to work with pretty much everyone and every project. It is such a great opportunity for me!
What about this new role excites you the most? 
I'm excited by the office's focus on sustainability and pushing each project to do more to improve our environment. It needs to be a driver in everything we do, especially with our urban landscapes.
What has been your favorite project? 
The Bullitt Center and McGilvra Place Park, the first commercial living building and first living park, respectively, have been most influential on how I approach landscape design and team collaboration. These projects were cutting edge in their ultimate design, but also in the process to get there.
Why Landscape Architecture? 
Like architects, my field is a great blend of creativity and logic. No two projects are alike, which also means that no two days are ever alike either.
We know (and hope!) you don't work all the time. What do you do on the weekend? 
I have a big messy garden with a bunch of projects always in various stages of completeness. My husband and three young girls keep me on my toes and so there's never a dull moment!
Where do you find inspiration?
From other people's gardens, large and small. From the people that I'm surrounded by and trying to stay open to new ideas.
Share a little about your background. What brought you to where you are today?
I've always had a strong connection with my family's history, who came to the North Dakota plains from Norway in the early 1900's and settled as farmers. Even though I've always lived in urban areas, I've found ways to stay connected to those family roots. Being able to carry forward traditions and stories of my Scandinavian heritage has been very meaningful to me and has helped me understand where many of my traits come from.
What is one of your current obsessions? 
Pokémon Go. Just kidding. 🙂 Well wait, maybe I should go download it?
What is one of your hobbies that not many people know about? 
I have done various types of woodworking including turning bowls and refinishing furniture, but in recent years mostly focus on small garden structures and finding reclaimed materials to integrate into my projects at home.
What are you looking forward to both personally and professionally in the coming year?
This is a big year of transitions for me and I'm looking forward to all that is to come. At home, we are watching our youngest say her first words and take her first steps – just amazing! Professionally, it is an exciting time to be a designer in Seattle with all of the new developments and influx of people. It is an environment where clients are open to try out new ideas and take some risks to be able to stand out.