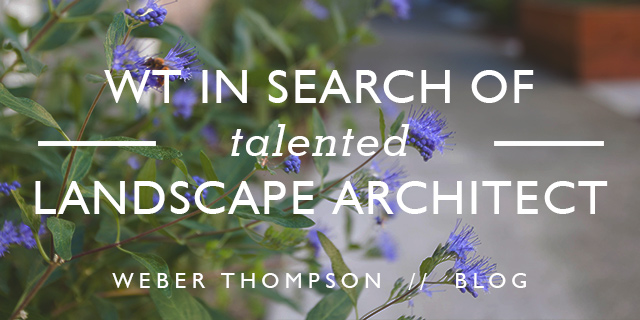 Weber Thompson, an award winning architecture, interior design, landscape architecture and community/urban design firm has an opening on our landscape architecture team. Our projects are complex and you will work hard – but you will be alongside a great group of people who prioritize collaboration and humor in their day-to-day work. We work in a light filled, passively cooled office building in the middle of the highly energized South Lake Union neighborhood in Seattle.
Our office is a friendly and low-key, yet deadline-driven, environment with minimal egos, and we're looking for a new Landscape Architect / Designer to join our team.
If you have a Bachelor or Master degree in Landscape Architecture and 5+ years of experience, preferably in a landscape/architecture office setting working on urban multifamily and commercial development projects, we want to meet you! You must have broad technical knowledge of design development, construction documentation, specifications and field experience as well as a comprehensive understanding of plant materials, horticultural best practices and efficient planting plan production. Excellent computer graphics and rendering skills including SketchUp and Adobe Creative Suite, as well as proficiency in AutoCAD are necessary.
If you believe you or someone you know might qualify for this position, head over to our careers page to learn more.