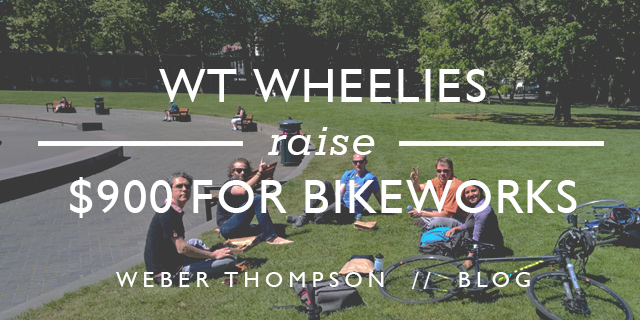 Weber Thompson has always been interested in helping the environment. For the 4th year in a row, we have taken on the bike month challenge in an effort to reduce the use of cars and encourage healthy living. In previous years we've competed against each other in teams. The competitive nature drove us to team costumes and dance exhibitions so we could taunt our co-workers and spur ourselves on to ride more miles than the others.
This year we pulled together as a firm and formed a single team: The WT Wheelies. Our team consisted of 25 participants who rode from as close as 1 mile away to as far as 8 miles away with our farthest teammate riding 378 miles in the month. The team rode over 2600 miles, avoided 2350 pounds of CO2 and burned 131,000 calories! Along the way, we had team outings for happy hours and lunch tours, in which we toured various WT projects, both finished and under construction.
Why, if not to compete with each other, would we work so hard? For the KIDS!
This year we took donations by the mile to give to Bike Works, a nonprofit organization based in Columbia City. The organization is building sustainable communities by educating youth and promoting cycling. They teach children to build a bike from scratch as well as head out on group field trips.
Through personal donations, and with Weber Thompson matching those donations, we raised over $900 for Bike Works.
If you're interested in competing against us next year, we are definitely up for it…. Are you?
– Marc Furst LEED AP, Associate, Weber Thompson