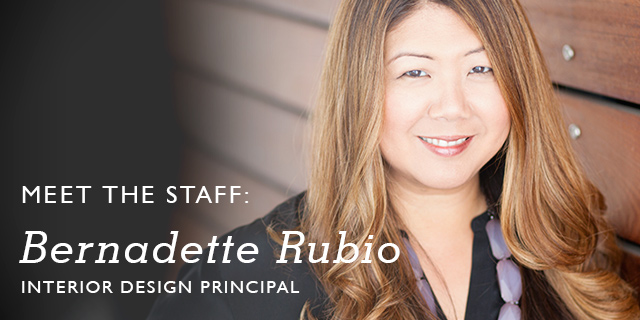 Bernadette Rubio, NCIDQ, LEED AP recently took the helm as Weber Thompson's Interior Design Principal. Learn more about her background and inspirations in this Q & A.
What is your Name & Title/Role? Bernadette Rubio, Interior Design Principal
You were just promoted! What about this new role excites you the most?
I've been with WT for almost four years and have been part of an incredible group of designers. Carrie Smith has been instrumental in making that happen and I learned a lot from working alongside her. What I'm really excited about is building upon that success, taking the WTid team to the next level and helping each of our team members flourish as designers.
What has been your favorite project?
My favorite project is a tossup between 4730 California Apartments in West Seattle and Pike Motorworks in the Capitol Hill neighborhood. Both projects were urban infill projects developed by The Wolff Company. Each project design was inspired by the uniqueness of their respective neighborhoods.
These projects were successful because the entire design team, especially the client, stayed true to the concept and were committed to executing the design throughout the process. It's a testament to a great client/designer/contractor team relationship.
Why Interior Design? What brought you to where you are today?
Although I have an architecture degree, ever since my first job in the industry, I've been practicing interior design. My father is an architect and I spent my childhood years tagging along to job sites and helping him take field measurements and as-built drawings. In high school, I spent my summers hand drafting for my dad. Naturally, I wanted to study architecture in college. However, I took a non-linear route: I studied marketing for a few years, took a couple of years off and worked in retail, went back to school to study engineering and eventually I came full circle and graduated with an architecture degree.
I didn't get my first job in the industry right away, it took me a year after graduation to finally land a job in an architecture firm. I thought my career would be architecture focused, but instead I found myself working on office, medical and industrial tenant improvements. While that didn't inspire me as far as design was concerned, I really learned a lot about the business side of the industry. I was fortunate to see projects from start to finish. I was able to learn quickly about how to deal with all people involved in making a project come to fruition.
My favorite part of my job is working with clients and/or end users to create a space that will help make their jobs or lives more efficient and enjoyable. Working in interior design, I know I have a direct and positive impact on their everyday lives. In addition, this industry feeds the social part of my soul. I get to work with really fun and interesting people. I'm pretty lucky to work at WTid, because I wake up every day knowing I get to be creative and work with my friends.
We know you don't work all the time. What do you do in your free time?
During the week, I spend two nights learning the Argentine tango. I started about seven months ago and I've been hooked ever since. I love how the dance is different depending on who you dance with. It has taught me to be more patient, to improvise and to focus on listening and communicating with others. This past year, I also went kayaking and paddle boarding for the first time. I'm not sure what took me so long to try it! I'm looking forward to getting on the water more often this summer.
I also enjoy visiting galleries and museums and I try to attend the monthly art walks in Pioneer Square. On the weekends, I'm either hanging out with friends, watching sports or sometimes I travel to Portland/Vancouver to spoil my three nieces and nephew.
Whenever I get the opportunity, I try to travel to Chicago (my favorite U.S. city and where my best friend resides), Montana (to get my nature fix and visit my parents) or somewhere overseas. Last fall I spent three weeks in Spain and Portugal and I'm getting the urge to plan my next international trip.
What is one of your hobbies that not many people know about?
I actually have several hobbies that I wish I had more time to do. In addition to my tango lessons – I enjoy painting, sewing and making jewelry. Also, I collect rosaries and the miniature metal souvenirs of famous architecture from all of the cities I have visited around the world.
Where do you find inspiration?
I find inspiration everywhere. I am constantly paying attention to details. Everywhere I go I find myself focusing on intricacy, whether it be a hotel, restaurant, industry trade shows or just walking down the street in a new city. I'm pretty hooked on Pinterest, too! Before Pinterest, I had years and years of design magazines in my home – Metropolitan Home, Architectural Record, Domino, Blueprint, Hospitality Design, Interior Design…I could go on. Pinterest really has helped me as well as our team at WTid with research and inspiration. I also find that inspiration doesn't always come to me through the physical, visual world. I am continually inspired by people and how they move through and use spaces.
What is one of your current obsessions?
This may sound trite, but at the moment, I am really obsessed with improving my work-life balance. That obsession is spilling into my vision for WTid and what I can do to help those on my team to achieve their own work-life balance. Our industry can be pretty brutal with unexpected deadlines and cyclical economically driven workloads and self-care tends to go to the wayside.
What are you looking forward to both personally and professionally in the coming year?
As I mentioned earlier, I have been working on my work-life balance. Becoming a Principal has only increased my already busy work schedule and my social life and self-care could suffer. I want to focus on finding that perfect balance to be healthy emotionally and physically so I can do my best at the office.
Becoming a Principal of an interior design team has been a goal of mine for a while now. I've been a Principal of my own business and as rewarding as that was, it doesn't quite compare to being recognized by your peers for all of your hard work. I've climbed through the ranks in my four years here at WT, I became a Senior Associate after only being here a year and half and now have become a Principal. I'm really proud of what I've accomplished. I have amazing support from everyone at WT, but especially from the Partners and Principals. I'm really looking forward to what is to come and leading the WTid team in this next chapter. Stay tuned!