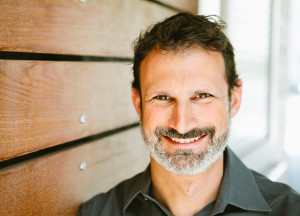 Principal Jeff Reibman, AIA, LEED AP BD+C recently joined the ownership team at Weber Thompson He has been with the firm for over 11 years and is an integral part of the Mid-rise / Mixed Use Design Studio, but is heavily involved in the business and marketing side of the firm. Learn more about Jeff on our website.
What is your name & title/role?
Jeff Reibman, AIA, LEED AP BD+C. Principal
My role is primarily within the Mid-rise / Mixed Use Design Studio working on large, urban infill projects. I'm also involved with HR and I spend a fair amount of time on improving our processes and tools for project management and delivery. Beyond the direct office work, I also volunteer as a member of the Seattle Urban Forestry Commission and as a board member for The Seattle Great City Initiative.
Share a little about your background.
I grew up here in Seattle and on the Eastside; I feel a very strong tie to Seattle and the region. My family has been here for several generations and I see myself as a very Northwest kind of guy. Growing up, we spent a lot of time in the mountains and on the water, as well as in the city itself. I went to schools in both Bellevue and Seattle and graduated from Bellevue High. I left Seattle to attend Architecture school at the University of Oregon in Eugene and also spent half a year in Vail Colorado but I came right home to Seattle to start my career. It's exciting to play a role in shaping my home town.
How long have you worked at Weber Thompson and why did you begin working here in the first place?
I started here over 11 years ago on April Fool's day 2004. I had been working for a smaller firm on the eastside for a while and also had my own small design practice on the side but I was feeling really limited. I was close to getting my license and I realized that I wanted to be involved with larger, more complex projects. My friend from U of O Mindy Black was already working here and one day she called me up and asked if I would be interested in interviewing for a position. I jumped at it.
What has kept you at Weber Thompson?
Many things; I've had amazing opportunities to challenge myself and to grow professionally. I love the culture of empowerment and the fun work environment. My colleagues are amazing; it's a privilege to collaborate with such talented people. That goes for our clients too. I really enjoy working with sophisticated developers who understand the design and construction process.
What do you do when you're not working?
I don't understand the question….
Actually, I do work a lot because I enjoy what I do but I also love to travel.   Here in Seattle I ski and bike as much as possible and will take any excuse to get out on the water. I have a wonderful family and friends to share all that with so the calendar is always full.
What are a few of your passions?
I'm very interested in urban planning at the neighborhood and city scale so I do a lot of volunteer work around that and try to keep up on local politics as well since there are very intertwined.
Outside of the office I really love to be up in the mountains or out on the water. I'm interested in any activity that gets me there. The scale and beauty of the natural world keeps the architect side of me in check and there is something magical about the combination of challenges and relaxation a person can find out there. When I can't get out of the city I also love cycling, cooking and pretty much anything I can do with a good group of friends and family.
How do you stay inspired?
The most exciting thing for me is the synergy that comes from lots of smart people working together. I love to see a project come together knowing that the end result is greater than what any one person could achieve. When you see all those individual contributions getting combined together and elevated it's pretty inspiring.
Why are you excited to be part of the ownership team, and what are your goals moving forward?
I'm always looking for new things to learn in this profession and joining the ownership team opens up tremendous new territory in learning about the business of Architecture. I'm also very excited about the opportunity to help WT continue to grow and to continue to provide the amazing work, and place to work, that the current leadership team has built. As I said above it's the teamwork aspect of architecture that really inspires me and shifting in to my role as an owner will allow me to work with, mentor and learn from even more of the talented team members we have here.
Is there anything else that you'd like to add?
I really feel very honored to be asked to step into this role. Blaine, Scott and Kristen have all been exceptional mentors to me and they've created something very special here at Weber Thompson. One tremendous example they have set is the responsibility they feel to all the people who work here and to the firm itself. Weber Thompson has never been a vehicle for any one person's ego or glory. It's a place where everyone, including the owners, supports each other in pursuit of the best work we can do together. My goal is to keep that culture strong by supporting everyone here to be their best and bring that talent and care to everything we do.